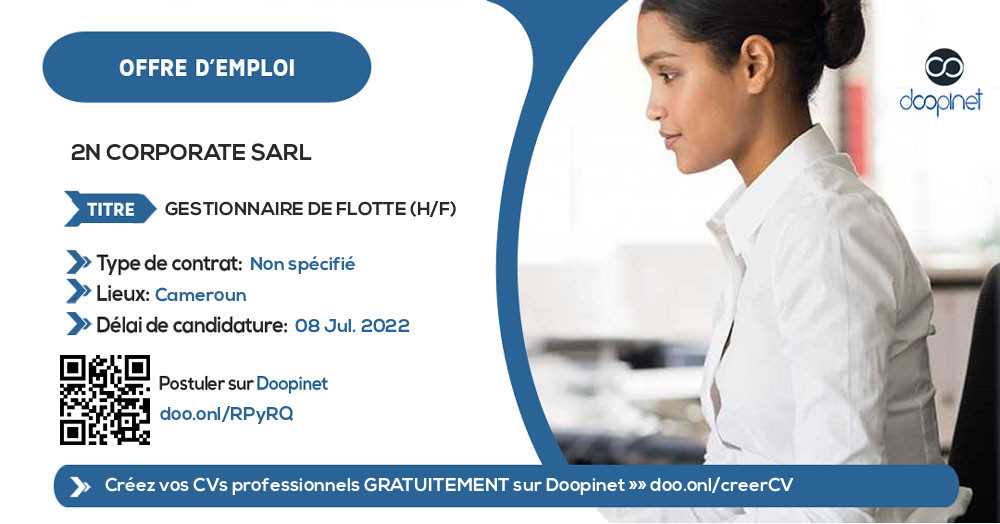 GESTIONNAIRE DE FLOTTE (H/F) – Douala
Douala, Littoral, Cameroon
·
08 Jul. 2022
·
Unspecified
·
Transport - Logistic
·
Responsable logistique / approvisionnement
Description
Dans le cadre de son expansion, la Société 2N CORPORATE SARL recrute un GESTIONNAIRE DE CAMION SEMI-REMORQUE (H/F).

Missions / Responsibilities / Activities
MISSION PRINCIPALE:
Organiser la gestion du parc automobile et le relationnel client.
ACTIVITES:
- Coordonner les activités des chauffeurs et des camions
- Gérer les besoins en approvisionnement (Gasoil, Vidange, pieces de rechange,...)
- Gérer la maintenance et l'entretien des camions
- Établir des rapports hebdomadaires et mensuels de ses activités
- Organiser des réunions avec les chauffeurs et répartir les ressources et moyens liés à l'activité logistique
Job Requirements
COMPÉTENCES:
* Maitriser la négociation avec les clients
* Maitriser les techniques d'import / export
* Avoir de solide connaissances dans le domaine de la logistique et/ ou transport
* Avoir des connaissances sur la maintenance des camions .
* Avoir un portefeuille client serait un atout.
PROFIL:
Être âgé d'au moins 25 ans
Titulaire d'un Bac + 3 Minimum dans le domaine de la logistique et transport
Avoir une expérience d'au moins un (01) an dans le domaine du TRANSPORT DE MARCHANDISES
Capacité d'analyse et d'anticipation
Applicant profile
» At least 25 years old
» Experience Level: Entry / Beginner
» Minimum Education Level: Bachelor's Degree

Application Documents
» Lettre de motivation
» Curriculum Vitae

NOTE: SCAMMERS ARE MORE AND MORE SMART! Never send money to a stranger during a recruitment process for any reason! And If ever you should, please do so at your OWN RISK!
Appy Instructions
Veuillez cliquer sur le bouton Postuler ci-dessous pour soumettre votre candidature
Ou Envoyez vos CV + Lettre de motivation en format Word ou pdf :
à l'adresse électronique suivante : info@2ncorporate.com. Inscrire la mention « GESTIONNAIRE FLOTTE CAMION SEMI-REMORQUE » en objet.
ou déposez au siège de 2NCorporate Sarl, situé à Bonaberi – Face cinéma Fohato (Ancienne route).
Contacts : +237 233 39 08 76 / +237 694 01 57 88 / 691 102 395
Date limite de dépôt de dossier : vendredi 08 Juillet 2022.
Receive our offers instantly on: