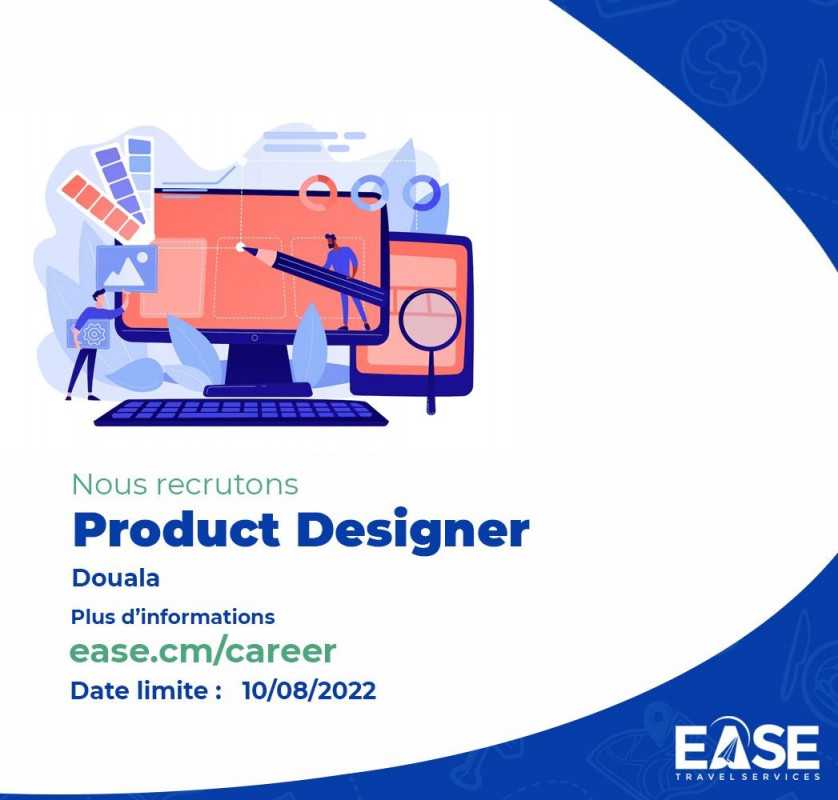 Product Designer – Douala
Douala, Littoral, Cameroon
·
20 Aug. 2022
·
Unspecified
·
Information Technology - Electronics - Digital
·
Developer
Salary: 150.000 - 300.000 / Monthly
Description
Nous recherchons pour notre entreprise un UI designer qui sera en charge de la création de nos interfaces, de l'analyse des besoins de nos utilisateurs et de la transformation des-dits besoins en amélioration de nos produits Au sain de l'équipe, vous travaillerez en étroite collaboration avec l'équipe technique ainsi que l'équipe produite pour trouver des solutions aux différents challenges. Vous nous aiderez à créer des produits visuellement beaux et faciles à utiliser.
Salaire: 150000 FCFA - 300000 FCFA
Missions / Responsibilities / Activities
Définir les spécifications fonctionnelles des produits
Préparer les sketch et prototypes graphiques définissant toutes les interactions
Analyse de l'impact de nos produits en rapport avec le marché
Effectuer des test fonctionnels avec l'équipe de développement
Analyse des retours clients ainsi que des données d'utilisation
Identifier des opportunités d'amélioration de nos interfaces existantes ou de création de nouveaux produits
Job Requirements
Expérience précédente dans un rôle de designer
Bonne maitrise des différents outils de design (figma, adobe XD etc...)
Capacités à être créatif et représenter une force de proposition
Applicant profile
» Experience Level: Medium
» Years of work experience: Between 2 year and 3 years

Application Documents
» Lettre de motivation
» Curriculum Vitae

NOTE: SCAMMERS ARE MORE AND MORE SMART! Never send money to a stranger during a recruitment process for any reason! And If ever you should, please do so at your OWN RISK!
Appy Instructions
Vous êtes le bon profil ? Envoyez-nous vos références et dites-nous pourquoi vous êtes la bonne personne pour le poste
Pour postuler, envoyer CV + Lettre de motivation à l'adresse career@ease-ts.com avec pour objet << Product designer Douala >>
Adobe XD
Receive our offers instantly on: