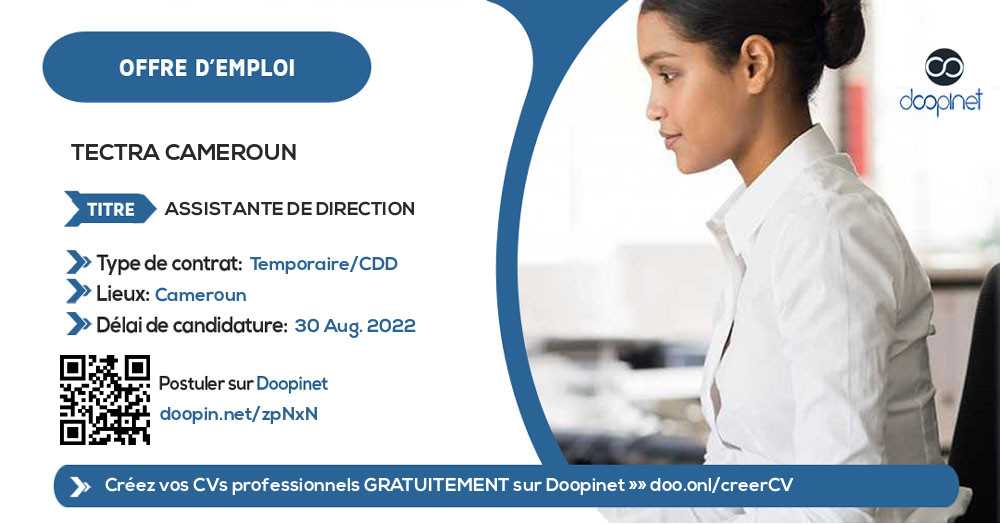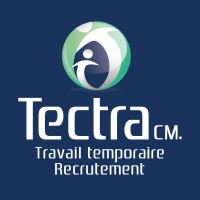 ASSISTANTE DE DIRECTION – Yaoundé
Yaoundé, Centre, Cameroon
·
30 Aug. 2022
·
Temporary
·
Secretary - Assistant
·
Executive Assistant
Description
Tectra Cameroun est une société spécialisée dans la mise à disposition du personnel temporaire et permanent, ainsi que dans le conseil en Ressources Humaines. Présent en Afrique, Tectra gère plus de 1000 clients actifs multisectoriels et a une force de réseaux présente dans plusieurs pays africains. Tectra Cameroun reste votre compagnon pour un emploi sûr et fiable.
Pour l'un de ses clients dans le
domaine du trading, Tectra Cameroun recherche d'une Assistante de direction pour la
ville de Yaoundé.
Secteur d'activité : Banque, assurance

Type de contrat proposé : CDD
Missions / Responsibilities / Activities
· Recueillir, traiter et faciliter la circulation de l'information nécessaire au fonctionnement de la Direction Générale des Services
· Avec pour principale responsabilité de soutenir la direction générale, fournir un soutien à l'équipe de direction selon les instructions, afin de garantir que les buts et objectifs de l'entreprise sont atteints et que les opérations se déroulent efficacement
· Gérer la communication entre la direction et les employés, en assurant la liaison avec les cadres internes et externes pour divers projets et tâches
· Organiser les communications de l'équipe et planifier les événements, tant en interne qu'à l'extérieur
· Assurer un soutien administratif et de bureau, tel que la dactylographie, la prise de notes, la création de feuilles de calcul, l'envoi de fax et la gestion du système de classement
Job Requirements
Compétences :
· Très bonnes capacités rédactionnelles en français et en anglais
· Maîtrise de Microsoft Office et d'autres outils de productivité bureautique
Profil recherché :
· Aptitude à apprendre de nouveaux logiciels et systèmes
· Maîtrise du français et anglais
· Capacité d'écoute, adaptation
· Aisance relationnelle et capacité d'adaptation au contexte des interlocuteurs
· Capacité d'analyse, rigoureuse, pragmatique et inventive
· Capacité à préserver la confidentialité de l'entreprise
Qualifications :
· CV, BACC+3 Minimum en Techniques administratives, Gestion ou Commerce
· Expérience de 03 ans minimum dans un rôle administratif
Applicant profile
» Experience Level: Medium
» Years of work experience: Between 3 years and 5 years
» Minimum Education Level: Bachelor's Degree

Application Documents
» Curriculum Vitae

NOTE: SCAMMERS ARE MORE AND MORE SMART! Never send money to a stranger during a recruitment process for any reason! And If ever you should, please do so at your OWN RISK!
Appy Instructions
Candidature à adresser au plus tard le 30/08/2022 à l'adresse suivante : asssistante02@tectra.cvparser.ma

Receive our offers instantly on: