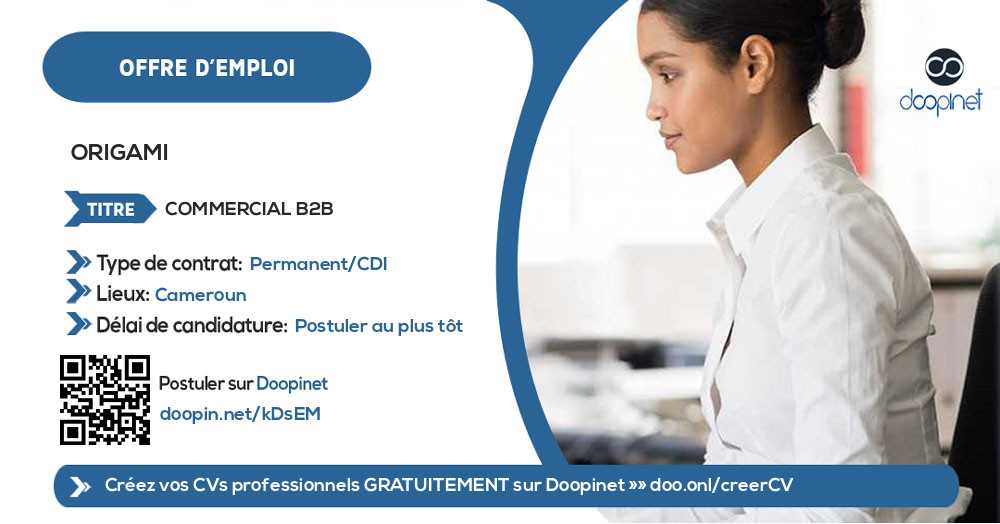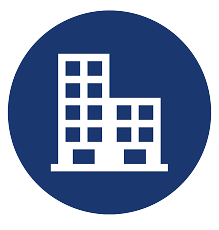 COMMERCIAL B2B – Yaoundé
Yaoundé, Centre, Cameroon
·
Apply ASAP
·
Permanant
·
Trade - Sale - Distribution
·
Sales Representative
Description
OFFRE D'EMPLOI: COMMERCIAL B2B
A Propos de l'entreprise
Origami est une entreprise Camerounaise créée en 2022 et se déployant dans le secteur des TICs (Technologie de l'information et de la communication). L'entreprise offre pour particuliers et entreprises, des solutions web tel création et relookage de sites internet, des solutions IT tel maintenance des parcs informatiques, mise en place et suivi de réseaux informatiques, des solutions collaboratives tel la messagerie professionnelle, portails d'entreprise, des solutions clés en main tel les logiciels, ERP et CRM. Nous conseillons et accompagnons nos clients dans leurs projets numériques
Rémunération en fonction du profil, et composée d'un salaire fixe + variable.
Missions / Responsibilities / Activities
Votre rôle
Chargé(e) d'améliorer le chiffre d'affaires de l'entreprise et la marge par différents types de services, vous utilisez toutes les techniques commerciales de prospection, de développement et de fidélisation.
Missions principales
Participer à l'élaboration et à la mise en œuvre de la politique et des méthodes commerciales
Prospecter de nouveaux marchés
Rédiger les propositions commerciales
Fidéliser les marchés existants
Augmenter le C.A
Assurer les reportings de vente
Activités principales
Définir le plan d'actions commerciales et établir le plan de tournée (ciblage, interlocuteurs, préparation de dossiers techniques, …)
Établir des contrats de ventes et maintenir une relation client-entreprise
Suivre et analyser les résultats des ventes et proposer des ajustements
Définir les clients cibles de l'agence
Prospecter de nouveaux clients (networking, représentation auprès de groupements professionnels, approche directe, approche digitale)
Détecter des opportunités auprès des nouveaux clients
Assurer un reporting régulier
Analyser les statistiques de ventes et les écarts prévisionnels/réalisés, repérer les segments les plus rentables, proposer des actions de fidélisation ou de relance
Réaliser une veille commerciale et anticiper des besoins R&D en fonction du développement et marchés potentiels
Développer et fidéliser les nouveaux comptes clients
Garantir la tenue des rendez-vous réguliers, garantir le suivi commercial avec l'aide du CRM
Développer et améliorer les bases de données clients
Favoriser la prospection : envoi de mailings, relance phoning
Effectuer des enquêtes de satisfaction et proposer des améliorations
Réaliser des études de marchés, des études de concurrence
Identifier les nouvelles opportunités de business,
Partir à la conquête de nouveaux clients et faire preuve de détermination
Participer à des événements professionnels (salons, conférences…) afin d'être au plus proche de notre clientèle cible
Être ambassadeur de la marque DataOptime auprès de nos prospects et clients.
Déceler de nouvelles opportunités de business pour les clients existants
Définir et maintenir le(s) process de prospection et fidélisation clients
Job Requirements
Formation : Bac +2/3 minimum en Marketing/Commerce-Vente/Communication
Une première expérience dans une fonction commerciale au sein d'une agence marketing ainsi qu'une bonne culture des métiers et outils du digital seront indispensables.
Compétences
Confidentialité, disponibilité, transparence, honnêteté, sens des initiatives.
Être capable de travailler sous pression, être rigoureux et fiable
Respect strict des procédures et des délais
Bonne connaissance des réseaux sociaux, de MS Office (Word, Excel, Power point) et Gsuite
Orientation client et résultats
Éthique et professionnalisme total
NB : Disposer d'un smartphone et d'un ordinateur portable
Applicant profile
» Experience Level: Entry / Beginner
» Minimum Education Level: Associate's Degree

Application Documents
» Lettre de motivation
» Curriculum Vitae

NOTE: SCAMMERS ARE MORE AND MORE SMART! Never send money to a stranger during a recruitment process for any reason! And If ever you should, please do so at your OWN RISK!
Appy Instructions
Cliquer sur le bouton Postuler pour envoyer votre candidature en ligne
Ou envoyez-nous vos documents de candidature à l'adresse email contact@origami.cm

Microsoft OFFICE
Receive our offers instantly on: