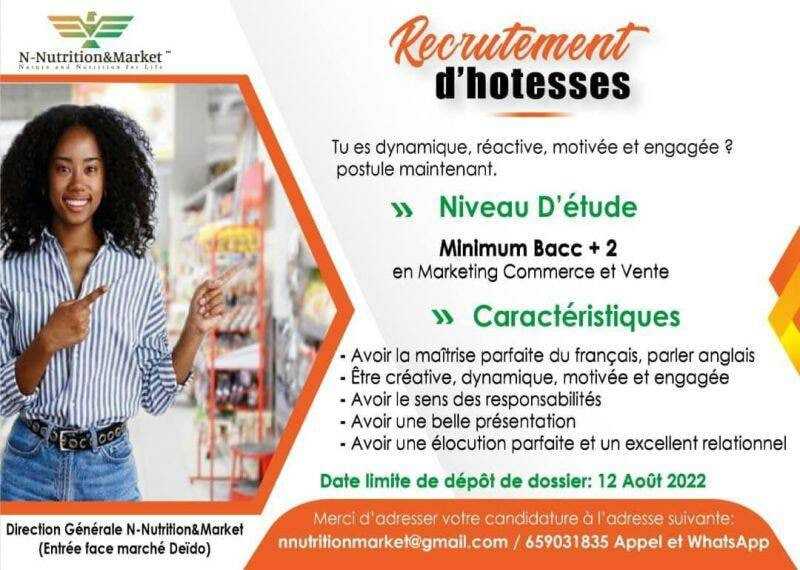 HÔTESSES – Douala
Deido, Douala, Littoral, Cameroon
·
12 Aug. 2022
·
Unspecified
·
Trade - Sale - Distribution
·
Seller / Sales hostess
Description
RECRUTEMENT D'HÔTESSES

Job Requirements
Tu es dynamique, réactive, motivée et engagée ? postule maintenant.

Niveau D'étude

- Minimum Bacc + 2 en Marketing Commerce et Vente

Caractéristiques

- Avoir la maîtrise parfaite du français, parler anglais

- Être créative, dynamique, motivée et engagée

- Avoir le sens des responsabilités

- Avoir une belle présentation

- Avoir une élocution parfaite et un excellent relationnel
Applicant profile
» Minimum Education Level: Associate's Degree

Application Documents
» Curriculum Vitae

NOTE: SCAMMERS ARE MORE AND MORE SMART! Never send money to a stranger during a recruitment process for any reason! And If ever you should, please do so at your OWN RISK!
Appy Instructions
Cliquer sur le bouton Postuler pour envoyer votre candidature en ligne
Ou Merci d'adresser votre candidature à l'adresse suivante: nnutritionmarket@gmail.com / 659031835 Appel et WhatsApp
Direction Générale N-Nutrifion&Market (Entrée face marché Deïdo)

Date limite de dépôt de dossier: 12 Août 2022

Receive our offers instantly on: