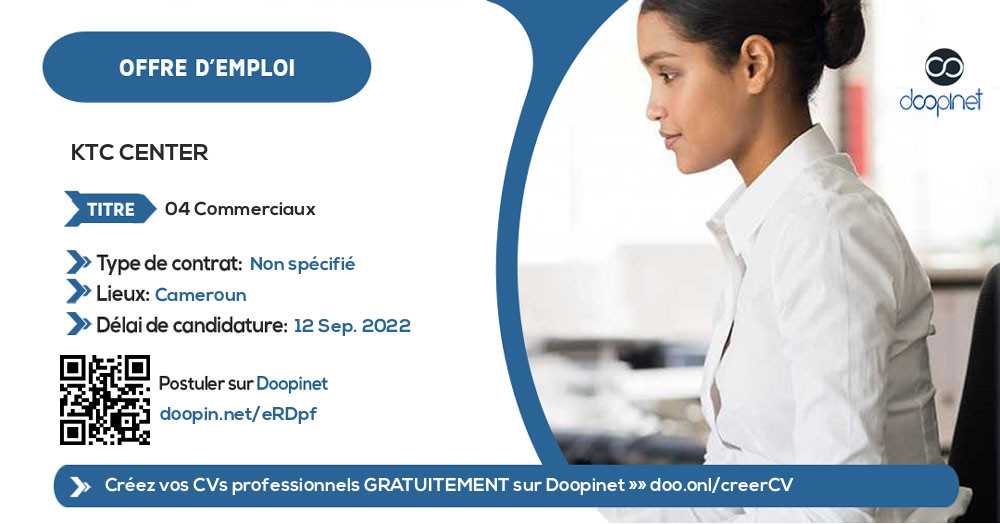 04 Commerciaux – Douala
Douala, Littoral, Cameroon
·
12 Sep. 2022
·
Unspecified
·
Trade - Sale - Distribution
·
Sales Representative
Description
Dans le Cadre de sa campagne lancée pour les Formations professionnelles et Langues notre centre spécialisé dans les formations Professionnelles en informatique et langues Recherche.
Job Requirements
Créativité et innovation
Autonomie
Être ponctuelle et dynamique
Solides compétences dans le poste recherché
Excellent sens du relationnel
Excellente Capacités d'expression orale et écrite
Autres: les candidatures féminines sont fortement encouragées.
NOTE: SCAMMERS ARE MORE AND MORE SMART! Never send money to a stranger during a recruitment process for any reason! And If ever you should, please do so at your OWN RISK!
Appy Instructions
Candidatures : - CV + Lettre de Motivation + Photocopie CNI
Délai de Candidature : Immédiate
Tel.: (WhatsApp Uniquement) +237 679 21 86 17
Receive our offers instantly on: