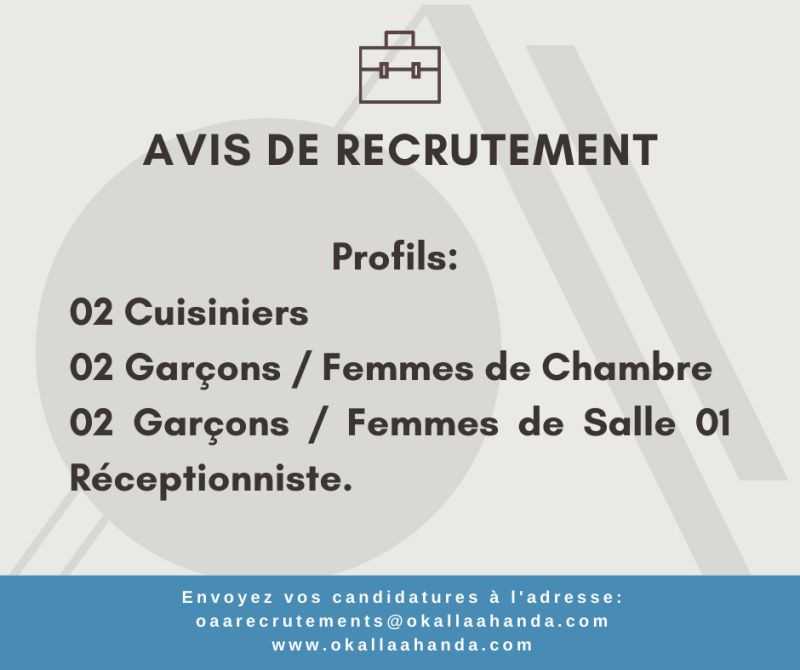 Réceptionniste, Femme ou garçon de chambre, garçon ou femme de salle, Cuisinier,.... – Yaoundé
Yaoundé, Centre, Cameroon
·
30 Sep. 2022
·
Unspecified
·
Hotel - Catering
·
Receptionist
Description
Un établissement hôtelier recrute des professionnels hôteliers expérimentés.
Application Documents
» Curriculum Vitae
» Lettre de Motivation
» Photo 4*4
» justificatifs du diplôme
» attestations d'emplois

NOTE: SCAMMERS ARE MORE AND MORE SMART! Never send money to a stranger during a recruitment process for any reason! And If ever you should, please do so at your OWN RISK!
Appy Instructions
Constitution du dossier de candidature : La candidature doit comporter les pièces suivantes : Une lettre de motivation fournissant toute information que le candidat juge pertinente et qui n'est pas donnée par le CV, Une photo 4x4, Un CV ; Des prétentions salariales, Les justificatifs du diplôme et des formations présentés, Les attestations d'emplois relatives à l'expérience professionnelle.
Les dossiers de candidatures seront reçus au plus tard le 30 Septembre 2022 à 18h00 à l'adresse ci-dessous.
Localisation: Hotel situé à la périphérie de la ville de Mbalmayo
Receive our offers instantly on: