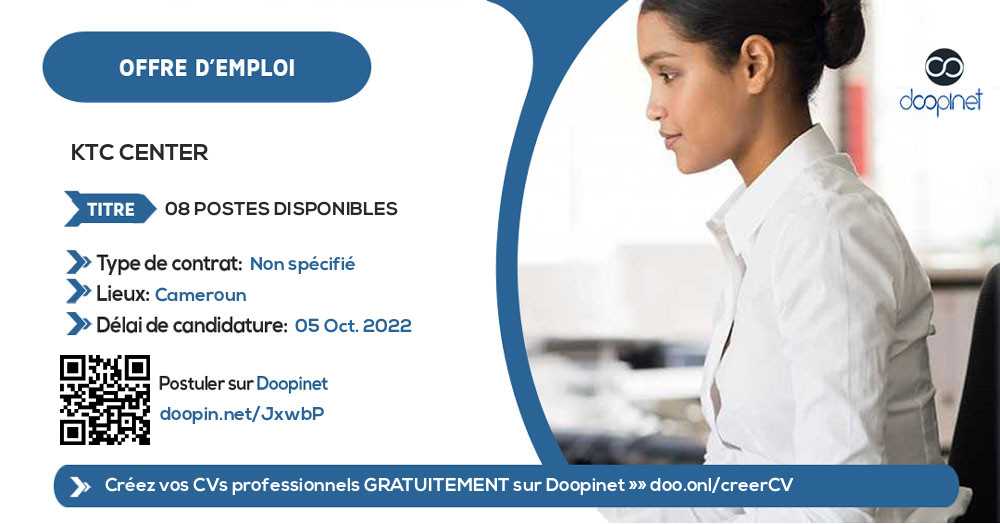 08 POSTES DISPONIBLES – Yaoundé, Douala
Yaoundé, Douala
·
05 Oct. 2022
·
Unspecified
·
Secretary - Assistant
·
Executive Assistant
Description
Dans le Cadre de son Expansion, Notre Structure spécialisée dans les prestations de Services informatiques, la formation Professionnelle Recherche.
Un (1) Chargé(e) Marketing et 1 Stagiaire en Marketing - Yaoundé
1 Technicien en Maintenance des Réseaux Informatiques - Douala
Deux (2) Secrétaires / Assistante de Direction - Yaoundé /Douala
Deux (2) Développeurs - Douala et Yaoundé
Un (1) Chef d'Agence - Douala
Job Requirements
Créativité et innovation
Autonomie
Être ponctuelle et dynamique
Solides compétences dans le poste recherché
Excellent sens du relationnel
Excellente Capacités d'expression orale et écrite
Application Documents
» Lettre de Motivation
» Curriculum Vitae

NOTE: SCAMMERS ARE MORE AND MORE SMART! Never send money to a stranger during a recruitment process for any reason! And If ever you should, please do so at your OWN RISK!
Appy Instructions
MENTIONNEZ LE POSTE POUR LEQUEL VOUS POSTULEZ DANS LE MESSAGE D'ACCOMPAGNEMENT

Cliquer sur le bouton Postuler pour envoyer votre candidature en ligne
Ou envoyez-nous vos documents de candidature - CV (+Photo) + Lettre de Motivation + Disponibilité à recrutement@kamer-center.net
Tel1.: (Whatsapp Messages Uniquement) +237 670 89 28 39
Délai de Candidature : 05 Octobre 2022
Receive our offers instantly on: