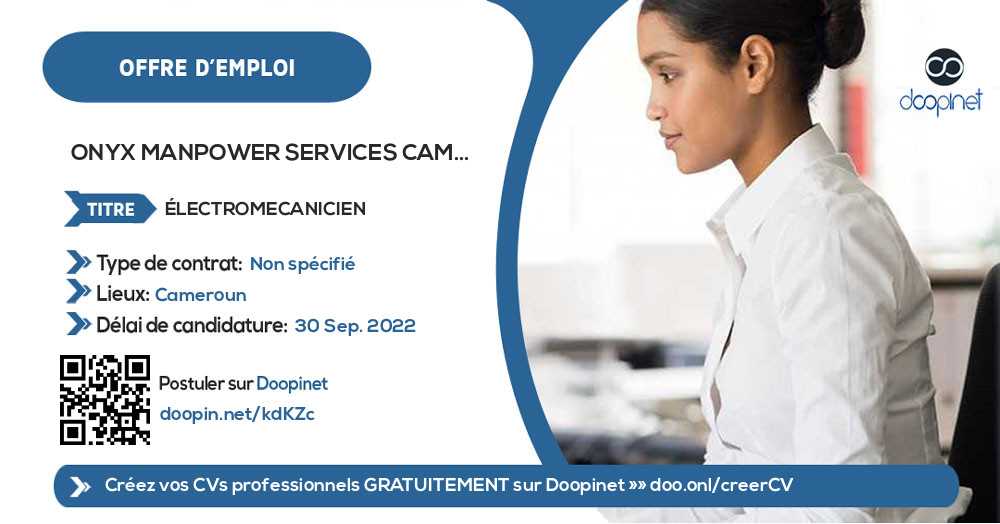 ÉLECTROMECANICIEN – Cameroun
Lieu, Non spécifié, Cameroon
·
30 Sep. 2022
·
Unspecified
·
Industrial
·
Electromechanic
Description
Pour les besoins de son
client qui évolue dans le secteur de L'industrie de transformation
(CACAO), ONYX MANPOWER SERVICES CAMEROON S.A recherche des candidats
ayant lePROFIL CI-DESSOUS

ÉLECTROMECANICIEN

-----
For the needs of its client who operates in the processing industry (cocoa), ONYX MANPOWER SERVICES CAMEROON S.A is looking for candidates for the BELOWPROFIL

ÉLECTROMECANICIEN

Missions / Responsibilities / Activities
MISSION
Assurer le bon fonctionnement des équipements de production de l'usine

DESCRIPTION

Suivi de la disponibilité permanente du matériel.

Nettoyage, réparation ou remplacement des éléments défectueux.
Rédaction des fiches techniques d'intervention (dossier de maintenance machines) et renseignement au niveau du GMAO (Gestion de la maintenance assistée par ordinateur).

Participation à l'amélioration des procédures de maintenance. Mise en place de dispositifs plus performants pour augmenter le rendement et la longévité des machines.
Job Requirements
EXPERIENCE : 1 an

Applicant profile
» Experience Level: Medium
» Years of work experience: Between 2 year and 3 years

Application Documents
» Curriculum Vitae

NOTE: SCAMMERS ARE MORE AND MORE SMART! Never send money to a stranger during a recruitment process for any reason! And If ever you should, please do so at your OWN RISK!
Appy Instructions
Seuls les candidats ayant le profil requis doivent : Envoyer leur CV à l'adresse suivante : jobs@onyx-as.com au plus tard le 30/09/2022 à 12h 00.
---
Only candidates with the required profile should: Send their CV to the following address: jobs@onyx-as.com no later than 30/09/2022 @ 12h 00.
Receive our offers instantly on: