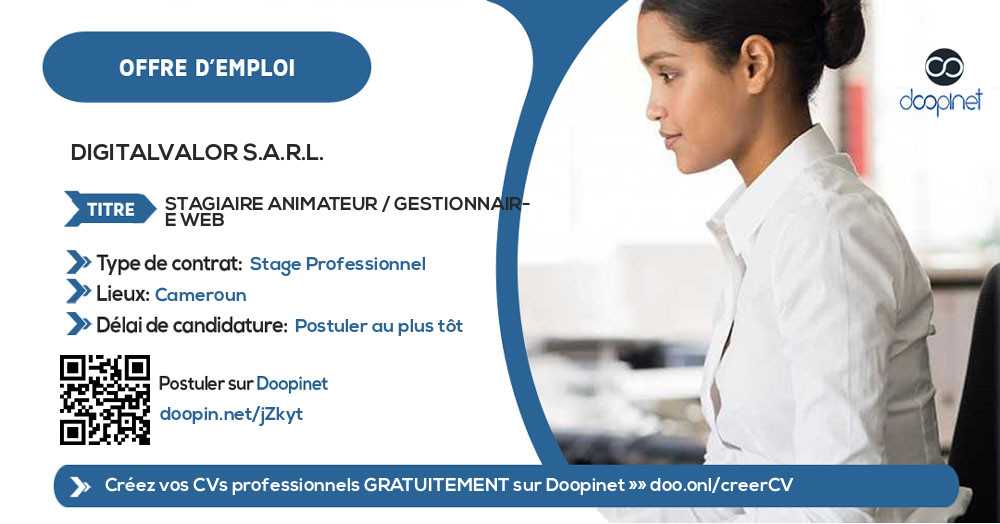 STAGIAIRE ANIMATEUR / GESTIONNAIRE WEB – Yaoundé
Yaoundé, Centre, Cameroon
·
Apply ASAP
·
Internship
·
Internet - Web
·
Community Manager
Description
Une jeune entreprise de services numériques recherche pour les besoins de ses services 01 Animateur / gestionnaire Web pour un Stage professionnel pré-emploi, qui prendra en charge la gestion et l'animation de ses sites Internet.
Poste : 01 Animateur / gestionnaire Web
Ville : Yaoundé (Résider de préférence dans les quartiers NGOUSSO, OMNISPORT, ELEVEUR, NKOLFOULOU ou environs).

Domaine d'activité :Internet, réseaux sociaux, Informatique, bureautique, Marketing / Vente
CONDITIONS :

Salaire mensuel : 50 000 FCFA
Horaires de travail : Temps Plein
Missions / Responsibilities / Activities
Mission :

Véritable "Touche à tout" dans le domaine de l'Internet, vous administrez au quotidien les sites Internet de l'entreprise en prenant en charge les aspects de contenus.

Principales tâches :
• Rechercher, trier et collecter les informations utiles et à valeur ajoutée.
• Rédiger, mettre en forme et publier les contenus sur les sites web et partage dans les réseaux sociaux
• Animer les pages facebook, groupes whatsapp, listes de diffusion etc…
• Utiliser un état d'esprit marketing et un marketing psychologique
• Engager les followers et créer des audiences et des communautés
Job Requirements
Profil candidat
Etudes : minimum BAC avec une formation en Informatique / Internet / Sécrétariat bureautique ou expérience justifiée.
Années d'expérience : 0 - 5 an(s)
Tranche d'âge : 20 - 35 ans
Compétences Requises
Bonne connaissance de l'Internet et des réseaux sociaux

Savoir-faire : Maîtrise des logiciels bureautique (Microsoft Office) et Internet (Courrier électronique etc…)
Savoir-être : Être de bonne moralité, Autodidacte à l'apprentissage des nouvelles technologies, Autonome, Polyvalent et minutieux.
Applicant profile
» 20 - 35 years old
» Experience Level: Intern
» Minimum Education Level: High School Diploma

Application Documents
» Lettre de motivation
» Copie CNI
» Curriculum Vitae

NOTE: SCAMMERS ARE MORE AND MORE SMART! Never send money to a stranger during a recruitment process for any reason! And If ever you should, please do so at your OWN RISK!
Appy Instructions
Délai de candidature : Postulez le plus vite possible, l'offre sera retiré dès qu'un candidat sera trouvé.

Dossier de candidature à envoyer à digitalvalor.shop@gmail.com

Curriculum Vitae (en précisant votre lieu de résidence)
Lettre de motivation
Copie de la CNI
ANNONCE SÉRIEUSE, Aventuriers s'abstenir.
Receive our offers instantly on: