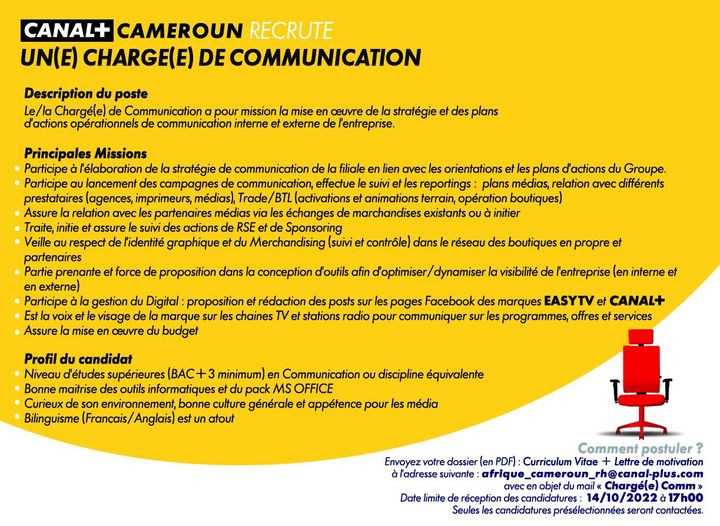 Chargé(e) de Communication – Cameroun
Lieu, Non spécifié, Cameroon
·
14 Oct. 2022
·
Unspecified
·
Communication
·
Event Communication Officer
Description
Vous recherchez des challenges ? Vous voulez vivre une expérience unique et divertissante dans une entreprise de télévision ? Vous avez des compétences dans les métiers de la Communication ? Ce job est fait pour vous !
Missions / Responsibilities / Activities
Le/la Chargé(e) de Communication a pour mission la mise en oeuvre de la stratégie et des plans d'actions opérationnels de communication interne et externe de (entreprise.
Principales Missions
Participe à (élaboration de la stratégie de communication de la filiale en lien avec les orientations et les plans d'actions du Groupe
Participe au lancement des campagnes de communication, effectue le suivi et les reportings : plans médias, relation avec différents prestataires (agences, imprimeurs, médias), Tracie/BTL (activations et animations terrain, opération boutiques)
Assure la relation avec les partenaires médias via les échanges de marchandises existants ou à initier
Traite, initie et assure le suivi des actions de RSE et de Sponsoring
Veille ou respect de (identité graphique et du Merchandising (suivi et contrôle) dans le réseau des boutiques en propre et partenaires
Partie prenante et force de proposition dans la conception d'outils afin d'optimiser/dynamiser la visibilité de (entreprise (en interne et en externe)
Participe à la gestion du Digital proposition et rédaction des posts sur les pages Facebook des marques EASY TV et CANAL+
Est la voix et le visage de la marque sur les chaines TV et stations radio pour communiquer sur les programmes, offres et services Assure la mise en oeuvre du budget
Job Requirements
Niveau d'études supérieures (BAC+ 3 minimum) en Communication ou discipline équivalente
Bonne maîtrise des outils informatiques et du pack MS OFFICE
Curieux de son environnement, bonne culture générale et appétence pour les média
Bilinguisme (Francais/Anglais) est un atout
Applicant profile
» Minimum Education Level: Bachelor's Degree

Application Documents
» Lettre de Motivation
» Curriculum Vitae

NOTE: SCAMMERS ARE MORE AND MORE SMART! Never send money to a stranger during a recruitment process for any reason! And If ever you should, please do so at your OWN RISK!
Appy Instructions
Envoyez votre dossier (en PDF) : Curriculum Vitae + Lettre de motivation au plus tard le 14/10/20 2 2 à 17h00
Seules les canddatures présélectionnées seront conIackes
Receive our offers instantly on: