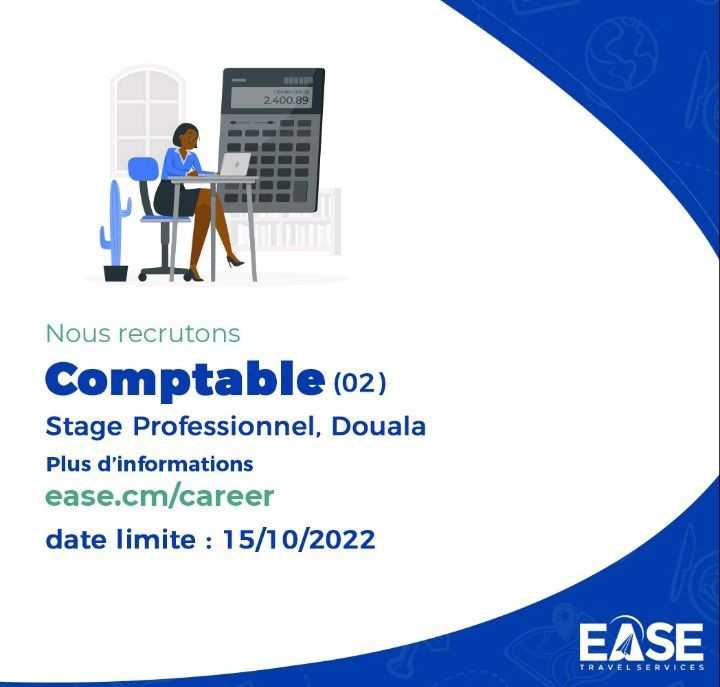 02 Comptables – Douala
Douala, Littoral, Cameroon
·
15 Oct. 2022
·
Internship
·
Accounting - Management
·
Accountant
Salary: 90.000 - 120.000 / Monthly
Description
Nous recrutons à Douala : 02 Comptables


Rejoignez notre équipe en tant que Stagiaire professionnel dans notre service de Comptabilité et Finances.

Salaire: 90000 FCFA - 120000 FCFA
Job Description
La société EASE Travel Services, agence de voyage, spécialisée dans les services de billets d'avion, organisation de séjours touristiques, location de voiture, réservation d'hôtels / appartements meublés recherche pour ses besoins un stagiaire professionnel en administration et comptabilités

Missions / Responsibilities / Activities
Gestion des tâches administratives courantes de la structure
Saisie des opérations
Comptabilisation banques / achats / clients
Facturation
Gestion des encaissements
Toute autre mission confiée par la hiérarchie
Job Requirements
Minimum Bac+3 en Comptabilité
Vous disposez d'une 1ère expérience réussie dans un poste similaire
Très bonne connaissance de SAGE, de l'outil informatique et d'Excel
Vous aimez le travail en équipe
Très bon niveau de Français
Avoir un bon niveau d'anglais est un avantage (parlé et écrit)
Applicant profile
» Minimum Education Level: Bachelor's Degree

Application Documents
» Lettre de Motivation
» Photocopie CNI
» Curriculum Vitae

NOTE: SCAMMERS ARE MORE AND MORE SMART! Never send money to a stranger during a recruitment process for any reason! And If ever you should, please do so at your OWN RISK!
Appy Instructions
Pour postuler
Vous avez le bon profil ? Envoyez-nous vos références, votre prétention salariale et dites-nous pourquoi vous êtes la bonne personne pour le poste


Contact

Pour postuler, envoyer CV actualisé + Lettre de Motivation + Photocopie CNI (Tous les documents au format PDF) à l'adresse career@ease-ts.com avec pour objet << COMPTABLE OCTOBRE 2022 >>
Date limite : 15/20/2022
Ne pas envoyer d'email vide
Envoyer uniquement des documents PDF
SAGE SAARI Microsoft Excel
Receive our offers instantly on: