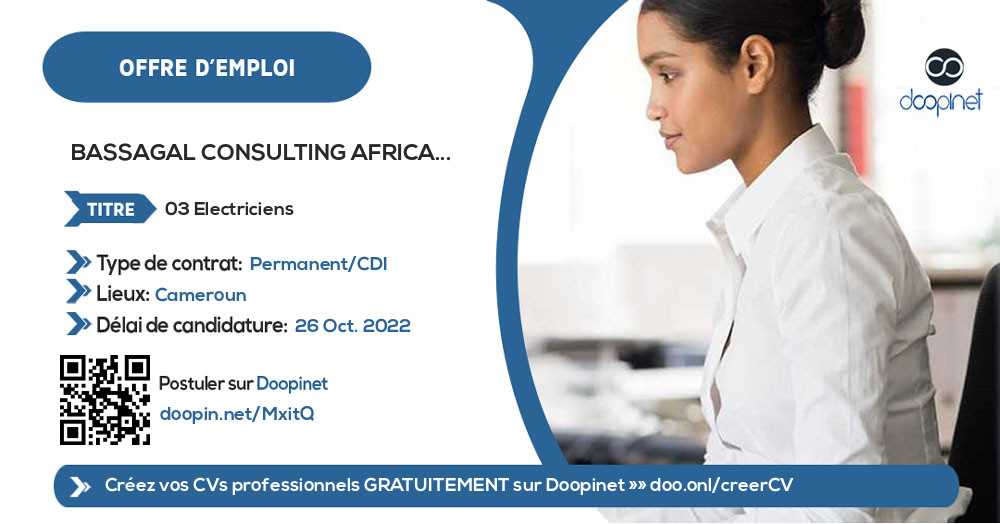 03 Electriciens – Douala - Cameroun
Douala - Cameroun, Littoral, Cameroon
·
26 Oct. 2022
·
Permanant
·
Industrial
·
Electrician
Description
BASSAGAL CONSULTING AFRICA
recrute pour un de ses clients, du secteur de la production et la commercialisation des produits chocolatiers et confiserie
03 Electriciens H/F
Type de contrat:CDI

Lieu:Douala
Missions / Responsibilities / Activities
Lire et interpréter les schémas et les plans de circuit ;
Réaliser, installer et entretenir un système électrique industriel ;
Concevoir un plan d'installation électrique ;
Effectuer l'entretien des installations, appareils et système électrique ;
Identifier et réparer les pannes et dysfonctionnements électriques ;
Monter et câbler des tableaux et armoires électriques industriels.
Job Requirements
Justifier d'une formation supérieure en Génie Electrique ou Electrotechnique ;
Justifier d'une expérience de 05 ans dans la Maintenance Electrotechnique ;
Autonome ;
Proactif ;
Disponible ;
Précision ;
Bonnes capacités manuelles ;
Bonnes connaissances des chaines de production ;
Bonne maitrise des instruments et outils de travail de l'électricien.
Applicant profile
» Experience Level: Medium
» Years of work experience: Between 5 years and 8 years

Application Documents
» Curriculum Vitae

NOTE: SCAMMERS ARE MORE AND MORE SMART! Never send money to a stranger during a recruitment process for any reason! And If ever you should, please do so at your OWN RISK!
Appy Instructions
COMMENT POSTULER?
Les candidat(e)s intéressé(e)s devraient envoyer leur CV en précisant la référence EL0122 à l'adresse suivante : yannick.billigha@bassagal-consulting.com

Seuls les candidats shortlistés seront contactés

La date limite de recevabilité des candidatures est fixée au 26 octobre 2022
Receive our offers instantly on: