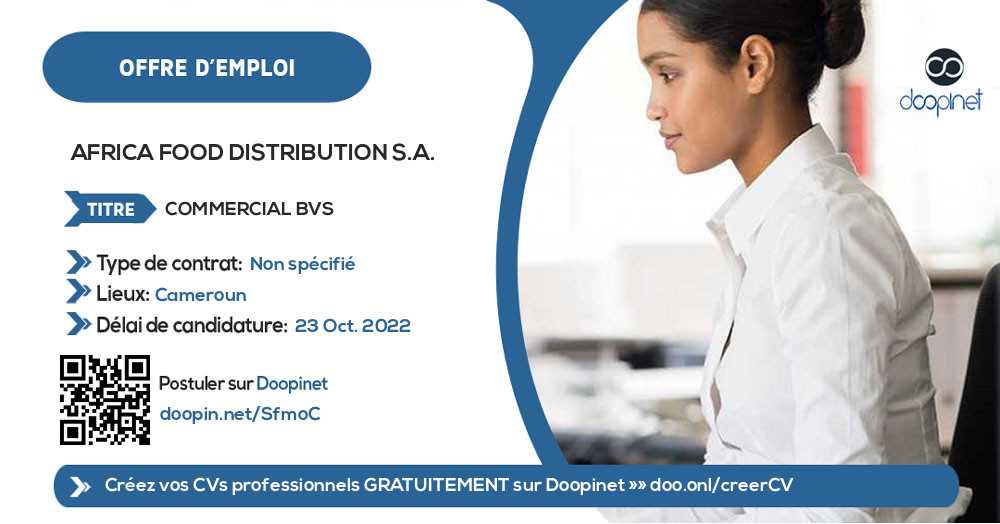 COMMERCIAL BVS – Douala - Cameroun
Douala - Cameroun, Littoral, Cameroon
·
23 Oct. 2022
·
Unspecified
·
Trade - Sale - Distribution
·
Sales Representative
Description
RECRUTEMENT DE COMMERCIAL BVS
Missions / Responsibilities / Activities
Le Commercial BVS est la courroie de transmission entre le grossiste et le détaillant (Sale Out), il a pour principales missions de :
- Prospecter les Clients ;
- Prendre les Commandes chez les clients ;
- Livrer les produits chez les clients ;
- Recouvrer de l'argent auprès des clients.

ACTIVITES
- Assurer la distribution numérique et pondérée de l'ensemble des produits en portefeuille ;
- Assurer une couverture optimale des différentes routes de distribution ;
- Observer le respect scrupuleux des procédures de ventes ;
- Réaliser la veille concurrentielle ;
- Assurer l'activation des vecteurs de ventes (qualité, disponibilité, visibilité, prix, promotion, persuasion) ;
- Assister aux réunions préparatoires des actions terrain ;
- Assurer la présence des produits chez tous les clients.EXIGENCES DU POSTE ET COMPETENCES REQUISES
Job Requirements
- Niveau académique : Bac + 2 en Marketing, commerce et vente ou tout autre diplôme équivalent ;
- Formation et/ou qualification complémentaires (atout) : Formation sur le logiciel SAGE GESCOM ;
- Expérience professionnelle : 1 année d'expérience à un poste similaire.
Applicant profile
» Experience Level: Medium
» Years of work experience: Between 1 year and 2 years
» Minimum Education Level: Associate's Degree

Application Documents
» LETTRE DE MOTIVATION
» Curriculum Vitae

NOTE: SCAMMERS ARE MORE AND MORE SMART! Never send money to a stranger during a recruitment process for any reason! And If ever you should, please do so at your OWN RISK!
Appy Instructions
Envoyer CV et lettre de motivation à l'adresse: recrutement@africafooddistribution.com
Délai de candidature: 23/10/2022
Seuls les candidats présélectionnés seront contactés pour un entretien
Sage Gescom
Receive our offers instantly on: