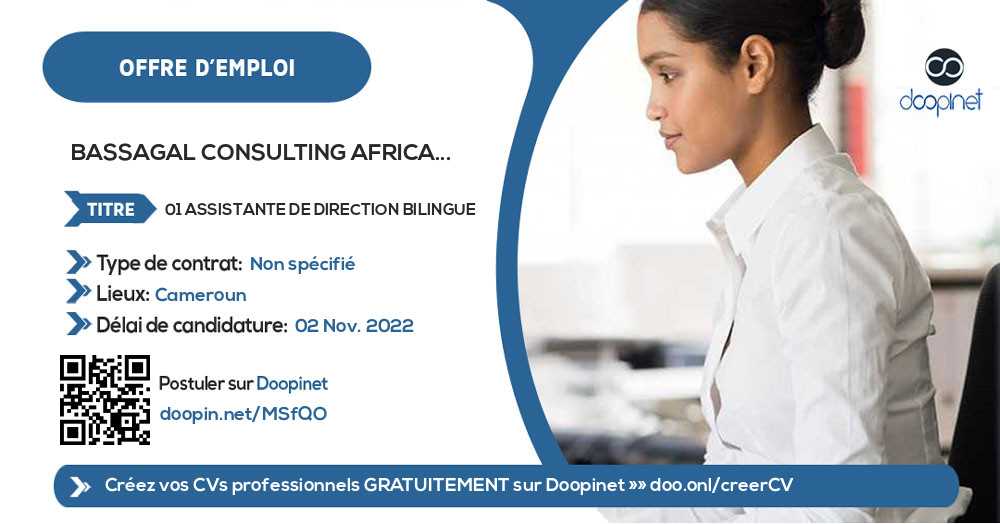 01 ASSISTANTE DE DIRECTION BILINGUE – Douala - Cameroun
Douala - Cameroun, Littoral, Cameroon
·
02 Nov. 2022
·
Unspecified
·
Secretary - Assistant
·
Executive Assistant
Description
OFFRE D'EMPLOI: 01 ASSISTANTE DE DIRECTION BILINGUE

BASSAGAL CONSULTING AFRICA Recrute pour un de ses clients du

secteur de l'immobilier :

UNE (01) ASSISTANTE DE DIRECTION BILINGUE (Réf : ADM0322)

Poste basé à : Douala

Missions / Responsibilities / Activities
Rattachée au Directeur Général, vous aurez pour missions de:
- Organiser les déplacements et les rendez-vous professionnels;
- Rédiger et gérer la correspondance administrative;
- Servir de contact administratif entre le directeur et les clients internes et externes ;
- Répondre aux appels téléphoniques;
- Classer et archiver les documents; Réaliser les commandes de matériel, de fournitures, de consommables et vérifier la conformité des livraisons;
- Contribuer à la conception et à la mise à jour des outils de suivi d'activité de la structure et des tableaux de bord.
Job Requirements
- Justifier d'une formation de l'enseignement supérieur en assistance de direction, ou secrétariat
- Avoir au minimum cinq (05) ans d'expérience avérée dans un poste similaire, bilingue; Être parfaitement bilingue: français et anglais,
- Maîtriser les outils informatiques et bureautiques (MS Office: Word, Excel, PowerPoint)
- Maîtriser les techniques de secrétariat, de communication, de gestion administrative,
- Être organisée, discrète, proactive, autonome et réactive,
- Avoir d'excellentes qualités en communication orale et écrite,
- Avoir la capacité de gérer plusieurs tâches simultanément et à hiérarchiser la charge de travail quotidienne.
Applicant profile
» Gender: Female
» Experience Level: Medium
» Years of work experience: Between 5 years and 8 years

Application Documents
» Curriculum Vitae

NOTE: SCAMMERS ARE MORE AND MORE SMART! Never send money to a stranger during a recruitment process for any reason! And If ever you should, please do so at your OWN RISK!
Appy Instructions
Les candidates intéressées par cette annonce devront envoyer leur cv (en fichier PDF ou WORD), en précisant en objet du courriel le code de la référence (ADM0222) à l'adresse suivante : irene.bassagal@bassagal-consulting.com avant le 02 Novembre 2022.
NB: SEULES LES CANDIDATES SHORTILISTEES SERONT CONTACTEES.
Microsoft Word Microsoft PowerPoint Microsoft Excel
Receive our offers instantly on: