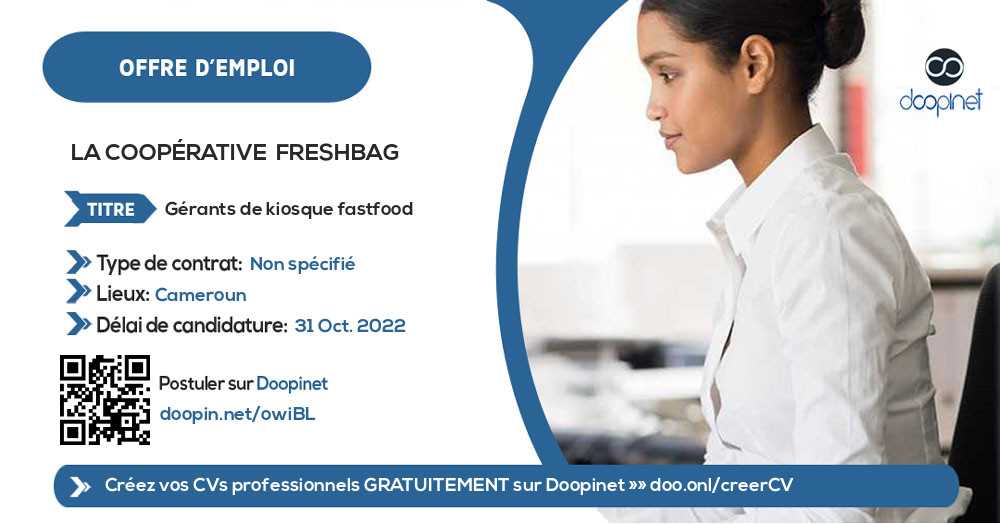 Gérants de kiosque fastfood – Yaoundé
Yaoundé, Centre, Cameroon
·
31 Oct. 2022
·
Unspecified
·
Hotel - Catering
·
Manager
Salary: 100 - 200.000 / Monthly
Description
La coopérative Freshbagrecrute pour ses besoinsdes gérantspour son activité de kiosque fastfood dans la ville de Yaoundé.
Lieu de travail:Yaoundé
Missions / Responsibilities / Activities
En tant gérant (e) du kiosque Fast Food vos responsabilité inclurons :

La préparation du menu et le service des clients ;
L'animation commerciale ;
La gestion de la caisse ;
La gestion du stock ;
La maintenance et l'entretien du kiosque
Job Requirements
Être âgé entre 21 et 35 ans ;
Avoir au moins le baccalauréat ;
Savoir s'exprimer en français et/ou en anglais
Savoir cuisiner et être capable de travailler de mardi à dimanche de 14h à 22H
Applicant profile
» 21 - 35 years old
» Minimum Education Level: High School Diploma

Application Documents
» Lettre de motivation
» Curriculum Vitae

NOTE: SCAMMERS ARE MORE AND MORE SMART! Never send money to a stranger during a recruitment process for any reason! And If ever you should, please do so at your OWN RISK!
Appy Instructions
CV et lettre de motivation à envoyer à l'adresse dev.agtx@gmail.com avec pour Objet candidature au poste de gérant kiosque Fast Food.
Délai: 31-10-2022
Receive our offers instantly on: