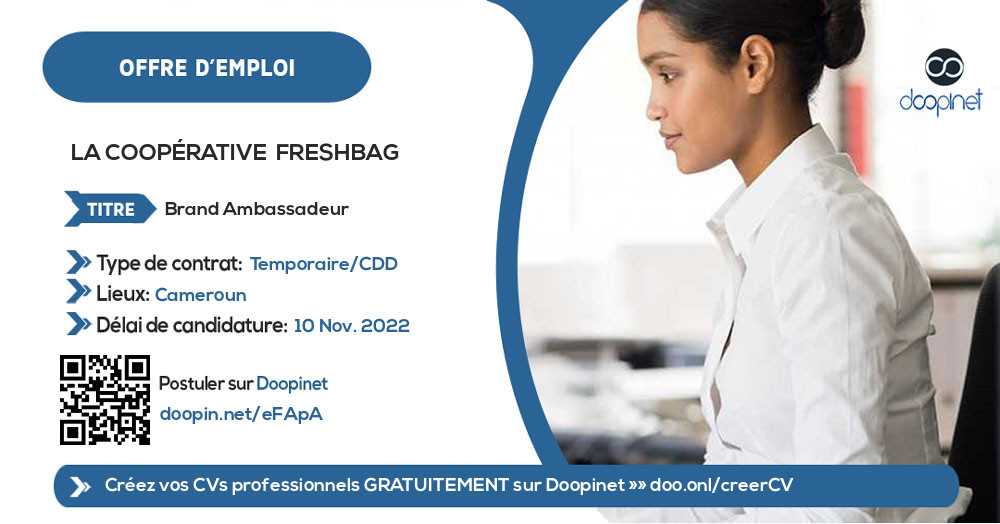 Brand Ambassadeur – Yaoundé
Yaoundé, Centre, Cameroon
·
10 Nov. 2022
·
Temporary
·
Trade - Sale - Distribution
·
Sale's animator
Salary: 100 - 150.000 / Monthly
Description
La Coopérative des consommateurs solidaires Freshbag afin de soutenir la croissance de ses activités dans la ville de Yaoundé recrute des Brand Ambassadeurs enthousiaste pour être le visage et la voix de notre entreprise auprès de nos publics cibles. Entant que candidat retenu, vous serez impliqué dans l´augmentation de la notoriété de notre marque et des ventes en faisant la promotion de nos produits à travers divers canaux médiatiques.
Vous travaillerez en étroite collaboration avec notre division des ventes et du marketing pour contribuer aux objectifs marketings, tels que la communication de la valeur de nos produits aux clients, le suivi de la satisfaction des clients et la représentation de la marque lors de lancements et d´événements.
Pourexceller dans ce rôle, vous aurez d´excellentes compétences en communication et en réseautage, ainsi qu´une forte présence sur les réseaux sociaux. Vous êtes un jeune professionnel actif et dynamique dans la société, souhaitant contribuer activement à l'amélioration de la qualité de vie dans sa communauté, vous êtes aussi capable de tirer parti de votre relationnel pour promouvoir, prospecter etvendre. Uneexpérience antérieuredans un rôle similaire serait un avantage, ainsi qu´une connaissance des principes de vente et de marketing.
Missions / Responsibilities / Activities
Éduquer notre public cible sur les produits et services de l'entreprise.
Créer du contenu digital afin de renforcer la notoriété de la marque et d´attirer de nouveaux clients.
Organiser des activités communautaire pour renforcer la notoriété de la marque auprès du public cible
Établir des relations de confiance avec les clients et clients potentiels de l'entreprise.
Participer aux activités de l'entreprise.
Maintenir une image positive de la marque en tout temps.
Améliorer la visibilité et le positionnement de l´entreprise ainsi que ces produits/services sur le marché camerounais
Comprendre la vision, la mission, les objectifs, les produits et les services de l'entreprise
Promouvoir, prospecter et acquérir des clients pour les produits/services de l'entreprise
Aider l'entreprise à améliorer ses produits et services à travers la réalisation d'enquêtes de satisfaction, la collecte des témoignages et critiques et faire découvrir les produits de l'entreprise aux membres de sa communauté
Partager des idées avec les superviseurs sur de nouvelles façons de promouvoir la marque
Job Requirements
Profil souhaité
Une personne, homme ou femme ayant entre 22 et 55 ans avec comme niveau d´étude Baccalaureat ni plus ni moins parlant et écrivant français, anglais
Bonne présentation physique et bonne aptitude à la communication ;
Avoir un bon relationnel ;
Expérience avérée dans le domaine de la communication, marketing et vente ;
Avoir une bonne maîtrise et visibilité sur les réseaux sociaux.
Ville de résidence des candidats : Yaoundé
Niveau académique : A partir du BACC
Atouts majeurs : – Expérience dans la vente
Connaissance des techniques de ventes
Connaissance des marchés de la région du centre et des localités périphériques
Your Perks
Travail à distance possible
Travail à horaire flexible
Rémunération : 100.000 – 150.000 F
Echantillons de produit gratuit
Invitation à des formations, dégustations et ateliers gratuits.
Applicant profile
» 22 - 55 years old
» Experience Level: Medium
» Minimum Education Level: High School Diploma

Application Documents
» LETTRE DE MOTIVATION
» Curriculum Vitae

NOTE: SCAMMERS ARE MORE AND MORE SMART! Never send money to a stranger during a recruitment process for any reason! And If ever you should, please do so at your OWN RISK!
Appy Instructions
Merci d´envoyer votre CV et lettre de motivation :
- Par mail : dev.agtx@gmail.com
- Par Téléphone mobile : 690165209
La date limite de candidature est le 10 Novembre 2022.
Receive our offers instantly on: