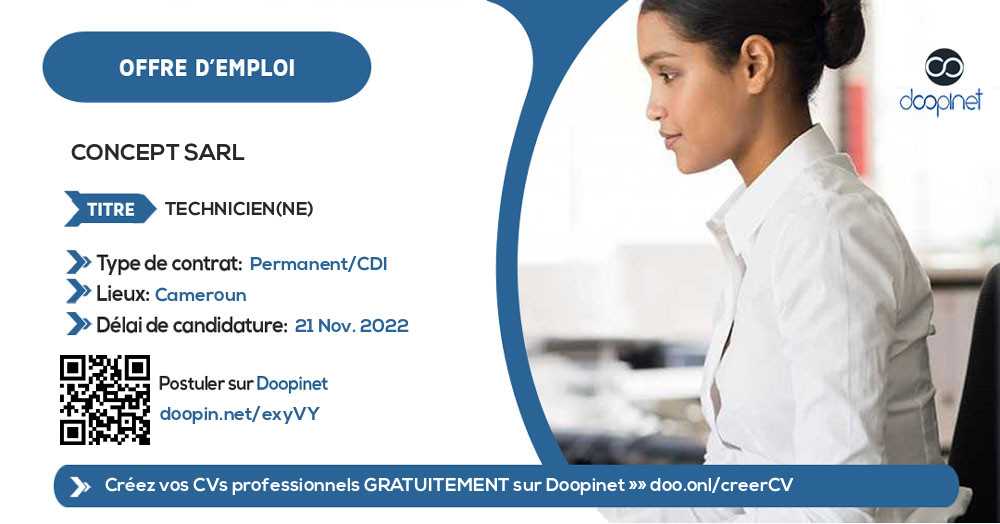 TECHNICIEN(NE) – Douala - Cameroun
Douala - Cameroun, Littoral, Cameroon
·
21 Nov. 2022
·
Permanant
·
Aeronautics - Space
·
Senior Electronics Technician
Description
CONCEPT SARL recherche pour les besoins de ses services 01TECHNICIEN(NE)
Missions / Responsibilities / Activities
Sous la supervision du chef de département Xerox, vous serez chargés de :
Diagnostiquer et contrôler les copieurs,
Installer et équiper,
Réaliser des interventions de maintenance préventive et curative,
Contribuer à l'amélioration continue sur le champ de la maintenance
Ecouter les clients et analyser leur Problème,
Résoudre ces problèmes.
Dépannage et installation de copieurs multifonctions,
Job Requirements
Être âgé de 21 au moins ;
Minimum BTS/DUT en Electronique, électrotechnique ou formation connexes.
Expérience professionnelle d'au moins 01 an à un poste similaire.
COMPETENCES REQUISES
Connaissances en électricité
Prérequis en informatique
CAPACITES
Capacité à respecter les délais
Capacité à résister au stress
Discipline dans l'organisation du travail ;
Capacité à être rigoureux et précis ;
Capacité à faire face à des situations d'urgence.
QUALITES
Aisance relationnelle
Sens de l'organisation
Sens de la responsabilité
Curiosité
Ouverture d'esprit
Flexibilité
Souplesse
Autonomie
Patience
Applicant profile
» At least 21 years old
» Experience Level: Entry / Beginner
» Years of work experience: Between 1 year and 2 years
» Minimum Education Level: Associate's Degree

Application Documents
» Curriculum Vitae

NOTE: SCAMMERS ARE MORE AND MORE SMART! Never send money to a stranger during a recruitment process for any reason! And If ever you should, please do so at your OWN RISK!
Appy Instructions
Cliquer sur le bouton Postuler pour envoyer votre candidature en ligne
Ou envoyez votre CV à l'adresse: support@concept-cm.com en précisant en objet « TECHNICIEN »
DELAI: 21/11/2022 à 17h
Receive our offers instantly on: