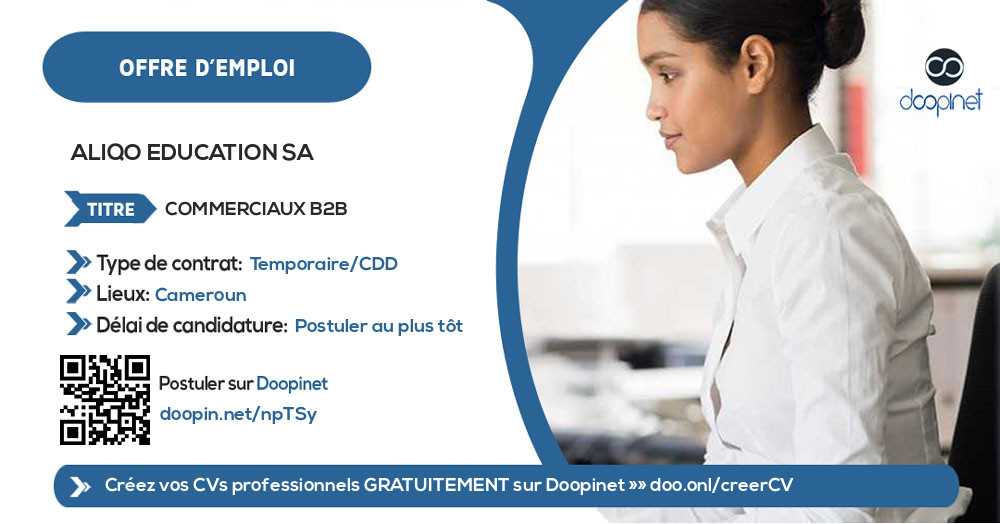 COMMERCIAUX B2B – Douala
Bonamoussadi, Douala, Littoral, Cameroon
·
Apply ASAP
·
Temporary
·
Trade - Sale - Distribution
·
Sales assistant
Description
RECRUTEMENT DE COMMERCIAUX B2B

ALIQO EDUCATION S.A. est une entreprise Suisse de
formation continue dans les métiers de l'énergie et active en Afrique
subsaharienne.
Nous sommes en mission pour créer un écosystème favorable pour
le développement du système énergétique africain.
Encourager l'innovation et
l'esprit d'entreprise par la formation, l'accès aux ressources et l'orientation
professionnelle.


Nombre de places :03Type de contrat
: CDD
Durée : 3
Mois


Lieu: Douala
Missions / Responsibilities / Activities
Missions
● Implémenter la stratégie commerciale conçue par la Direction.
● Développer les ventes et le portefeuille des clients.
● Prospection et fidélisation des nouveaux clients potentiels en B2B et B2C.

Job Requirements
Profil du poste
● Formation : Bac + 2/3 en marketing, vente ou toutes autres formations similaires.
● Justifier d'une expérience professionnelle dans le domaine commercial B2B et B2C.
● Une expérience dans la vente B2B /B2C des formations sera un atout.
● Les candidatures féminines sont fortement encouragées.
● Être bilingue est un atout

Qualités :
● Disponibilité, transparence, honnêteté, sens des initiatives.
● Être capable de travailler sous pression, être rigoureux et fiable
● Bonne Orientation client et résultat

Application Documents
» Curriculum Vitae

NOTE: SCAMMERS ARE MORE AND MORE SMART! Never send money to a stranger during a recruitment process for any reason! And If ever you should, please do so at your OWN RISK!
Appy Instructions
Cliquer sur le bouton Postuler pour envoyer votre candidature en ligne
Ou déposez physiquement vos documents dans nos locaux à l'adresse Ancienne pharmacie Kotto, Douala, Littoral, Cameroun.
Receive our offers instantly on: