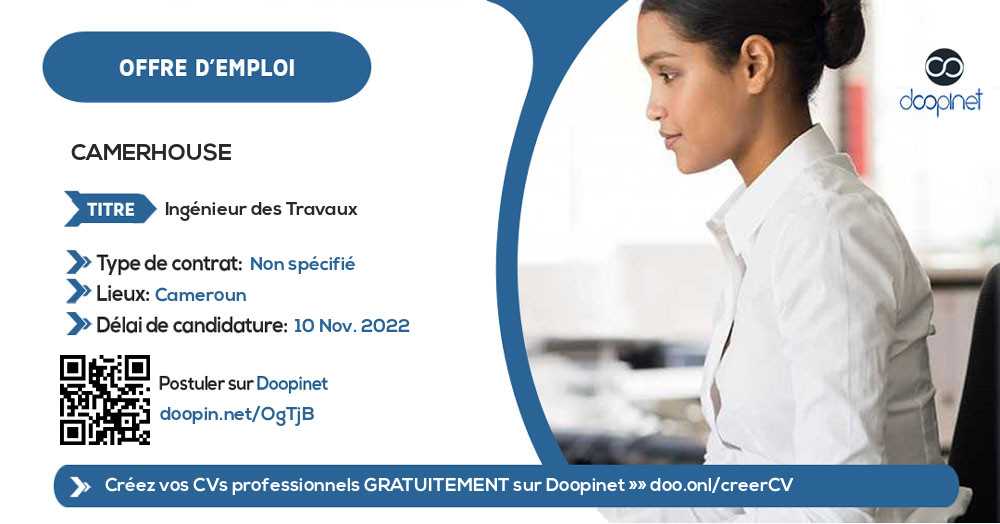 Ingénieur des Travaux – Yaoundé
Yaoundé, Centre, Cameroon
·
10 Nov. 2022
·
Unspecified
·
Architect - Public works - Town planning - Mines
·
Construction Engineer / Civil engineer
Description
Secteur d'emploi :
Chantiers de Construction résidentielle
Spécialisation(s) : Ingénieur en bâtiment et génie civil Bonne maîtrise de la gestion d'un chantier Conformité et qualité des travaux Capacité à gérer divers corps de métier

Date de début : Aussitôt que possible
Missions / Responsibilities / Activities
Fonction principale :

- Ingénieur Conducteur des travaux

- Suivi et administration des divers chantiers

- Rédaction des rapports mensuels des travaux

- Concevoir les plannings d'exécutions

- Concevoir les notes de calculs

- Concevoir les plans de structures des bâtiments

- Veiller à la conformité des travaux effectués
Description du poste : À titre de contrôleur des travaux, vous serez responsable du suivi des chantiers et de la bonne exécution des ouvrages par les divers corps de métier.
- Préparation en lien avec les sous-traitants le démarrage des chantiers de constructions
- Vérification des devis et cahier de charge du phasage des travaux
- Rédaction des contrats pour travaux
- Mise au point des plans d'exécutions
- Suivi opérationnel au quotidien et logistique des chantiers
- Assurer la conformité des travaux entrepris par les différents corps de métiers
- Assurer le respect du planning des travaux
- Superviser le travail des partenaires et sous-traitants intervenant sur les divers chantiers
- Faire des comptes rendus réguliers
- Conception des plans de structures et dimensionnement des bâtiments en lien avec l'architecte
- Coordination du montage des dossiers techniques APD des projets de constructions
Job Requirements
Connaissances informatiques :

- Logiciel de bureautique : MS Office (Word, Excel et Powerpoint)

- Logiciel de dessins : Autocad, Suite Autodesk (Production des plans et analyse de structure) ROBOT, REVIT, LUMION (Production des images et vidéo en 3D)

Aptitudes et compétences requises :

- Habileté à faire plusieurs tâches en même temps
- Capacité à travailler sous pression
- Être un bon leader
- Bon communicateur
- Aimez le contact avec les gens et collaborez de façon efficace avec les autres
- Faire preuve d'enthousiasme et de discipline
- Bonne gestion du stress
- Être disponible pour des voyages fréquents dans différentes villes

Exigences académiques :

- Idéalement Détenir au minimum un diplôme en Génie civil
- Avoir de bonnes habiletés pour la maîtrise des logiciels Autodesk et dessins
Application Documents
» Curriculum Vitae

NOTE: SCAMMERS ARE MORE AND MORE SMART! Never send money to a stranger during a recruitment process for any reason! And If ever you should, please do so at your OWN RISK!
Appy Instructions
Cliquer sur le bouton Postuler pour envoyer votre candidature en ligne

Robot Autodesk Revit Architecture Lumion Autocad Microsoft Word Microsoft PowerPoint Microsoft Excel
Receive our offers instantly on: