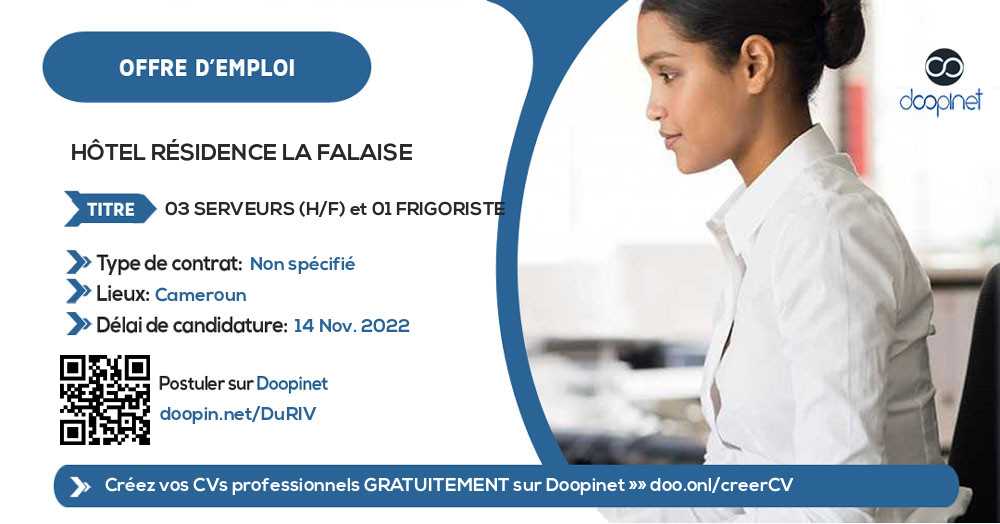 03 SERVEURS (H/F) et 01 FRIGORISTE – Douala - Cameroun
Douala - Cameroun, Littoral, Cameroon
·
14 Nov. 2022
·
Unspecified
·
Hotel - Catering
·
Waiter
Description
LA FALAISE Bonaprisorecrute dans le cadre de ses services les profils suivants:

01 FRIGORISTE
03 SERVEURS (H/F)
Job Requirements
Avoir une expérience professionnelle
Disponible
Intègre
Travailleur
Bonne présentation physique
Applicant profile
» Experience Level: Medium

Application Documents
» Lettre de motivation
» Curriculum Vitae

NOTE: SCAMMERS ARE MORE AND MORE SMART! Never send money to a stranger during a recruitment process for any reason! And If ever you should, please do so at your OWN RISK!
Appy Instructions
Cliquer sur le bouton Postuler pour envoyer votre candidature en ligne
Ou envoyer vos CV + Lettre de motivation à l'adresse carriere@lafalaisebonapriso.com
MENTIONNEZ LE POSTE POUR LEQUEL VOUS POSTULEZ

Dernier délai: 14 Novembre 2022

Receive our offers instantly on: