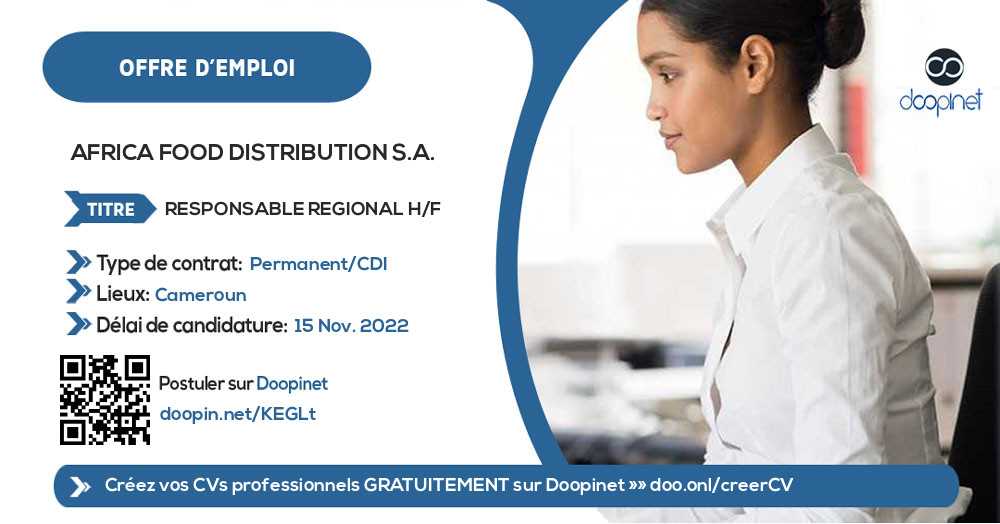 RESPONSABLE REGIONAL H/F – Douala
Douala, Littoral, Cameroon
·
15 Nov. 2022
·
Permanant
·
Trade - Sale - Distribution
·
Sales manager
Description
AFRICA FOODIMPORTSArecherche actuellement pour une de ses agences un(e)RESPONSABLE REGIONALH/F
Missions / Responsibilities / Activities
Le/La Responsable Régional aura pour missions de :
- Veiller à l'atteinte des objectifs de vente et d'encaissement, à la gestion et au développement des partenaires stratégiques ;
- Assurer la profitabilité des partenaires stratégiques et le recrutement des nouveaux partenaires,
- Centraliser et traiter également toutes les plaintes et réclamations de son portefeuille client ;
- Veiller au respect des procédures de ventes.

ACTIVITES
1- COMMERCIALES
- animer et fédérer les efforts de son équipe pour réaliser les objectifs de son territoire ;
- veiller à la fixation des objectifs aux partenaires et assurer le suivi de leur réalisation ;
- analyser les stocks des Partenaires et s'assurer de disposer au moins 15 jours de stocks pour chacun des SKU ;
- Produire hebdomadairement les plans détaillés par SKU de facturation et d'encaissement et assurer leur réalisation;
- mettre à jour les différents tableaux de bord de gestion et assurer le bon reporting de toutes les activités à temps ;
- S'assurer journalièrement du bon dénouement de toutes les transactions commerciales de son territoire ;
- Produire une analyse des tendances de ventes afin d'anticiper sur les approvisionnements ;
- Suivre les réclamations clients et faire le reporting chaque semaine ;
- S'assurer que tous ses partenaires gagnent des ristournes chaque fin de mois ;
- Boucler les journées de Ventes (Transmission à l'agence) ;

2- COMPTABLES
- veiller à une tenue réglementaire des documents de gestion des stocks et de vente des partenaires stratégiques ;
- veiller à une tenue extracomptable des comptes clients ;- Veiller à la collecte et transmission des bordereaux de versements et liasse commerciale ;
- Suivi des créances ;
- Produire la situation du risk analysis PS chaque mois avec les actions à entreprendre

3- CONTROLES
- assurer le respect des procédures et la protection du patrimoine du territoire dont il a la charge
- S'assurer du bon respect des procédures commerciales
- Renforcer le dispositif de contrôle à priori (conformité BL BC FACT. vs spécimen signature)Gestion logistique et administrative
-Assurer le suivi des livraisons des produits commandés.
Job Requirements
- Titulaire d'un Bac + 5 en commerce, vente, management ou tout autre diplôme équivalent ;
- Expérience professionnelle : 7 années d'expérience à un poste similaire ;
- Age minimum : 34 ans
- Avoir de bonnes connaissances des habitudes de l'open market,
- Avoir de bonnes connaissances des techniques de management ;
- Avoir une aisance à manipuler les fonds ;
- Sens aigu du service et du contact (multiples interlocuteurs)
- La pratique de la langue anglaise serait un atout.
- Organisé et rigoureux, dynamique et motivé.
Vous appréciez travailler en équipe et êtes résistant au stress. Votre réactivité, votre disponibilité, vous permettront de vous épanouir pleinement au sein de notre société.
Applicant profile
» At least 34 years old
» Experience Level: Medium
» Years of work experience: Between 5 years and 8 years
» Minimum Education Level: Master's Degree

Application Documents
» Lettre de motivation
» Curriculum Vitae

NOTE: SCAMMERS ARE MORE AND MORE SMART! Never send money to a stranger during a recruitment process for any reason! And If ever you should, please do so at your OWN RISK!
Appy Instructions
Cliquer sur le bouton Postuler pour envoyer votre candidature en ligne
Ou envoyez-nous vos documents de candidature à l'adresse email recrutement@africafooddistribution.com
Deadline : 15 Novembre 2022
Receive our offers instantly on: