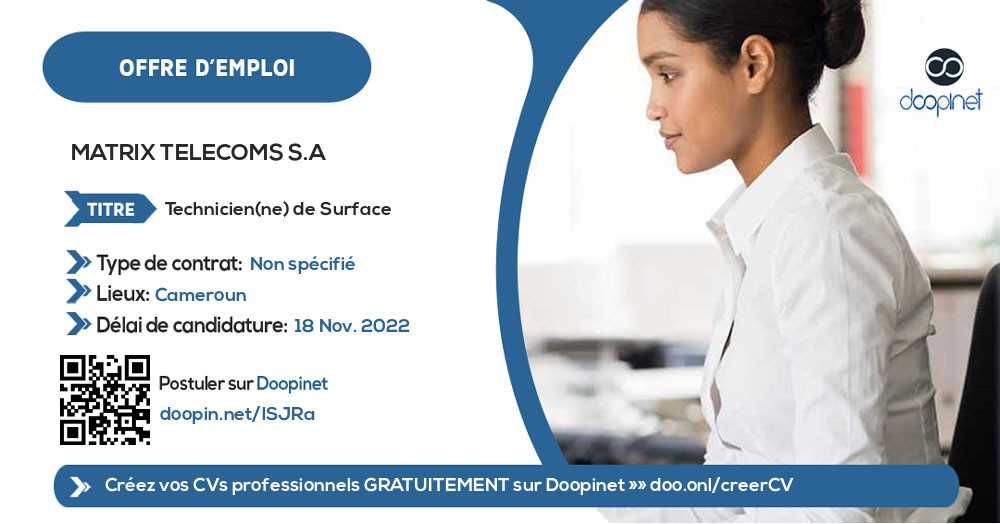 Technicien(ne) de Surface – Yaoundé
Yaoundé, Centre, Cameroon
·
18 Nov. 2022
·
Unspecified
·
Industrial
·
Surface technician / maintenance and cleaning agent
Description
Pour des besoin de service,MATRIX Télécomrecherche un(e)Technicien(ne) de Surface
Missions / Responsibilities / Activities
Il/Elle a pour mission le nettoyage permanent des surfaces de travail.
Tâche à effectuer:
Nettoyage et aménagement des bureaux
Veuille à la décoration et à la meilleure disposition des outils de travail dans les bureaux
Nettoyage et aménagement des jardins et espaces extérieurs aux bureaux
Nettoyage plonge (plat, tasse...)
Job Requirements
Niveau d'étude BEPC
Expérience 1 an
Bonne condition Physique
Applicant profile
» Years of work experience: Between 1 year and 2 years
» Minimum Education Level: CAP / BEPC, ...

Application Documents
» Curriculum Vitae

NOTE: SCAMMERS ARE MORE AND MORE SMART! Never send money to a stranger during a recruitment process for any reason! And If ever you should, please do so at your OWN RISK!
Appy Instructions
Cliquer sur le bouton Postuler pour envoyer votre candidature en ligne
Ou bien vouloir transmettre votre CV en version PDF via info@matrixtelecoms.com

NB: les candidatures féminines sont fortement recommandées!
Date expiration : 18-11-2022
Receive our offers instantly on: