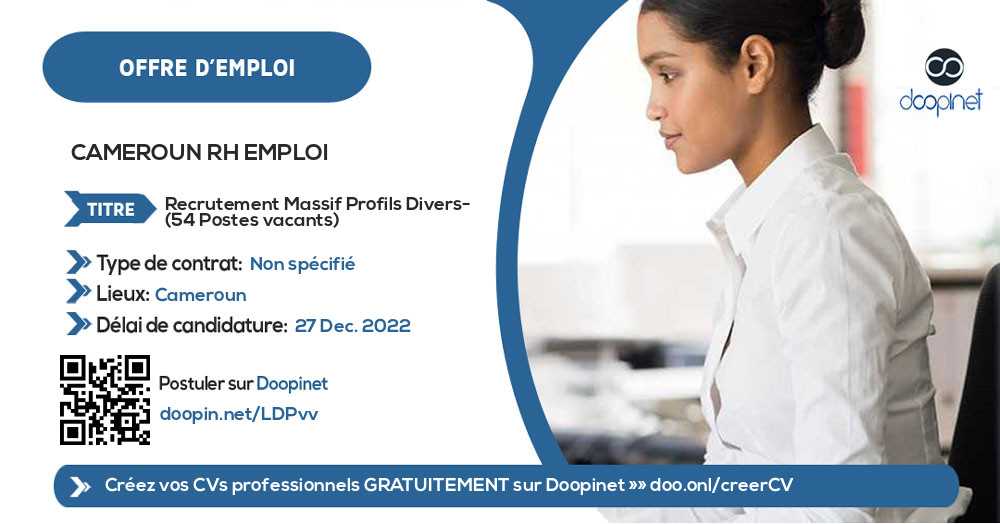 Recrutement Massif Profils Divers(54 Postes vacants) – Cameroun
Lieu, Non spécifié, Cameroon
·
27 Dec. 2022
·
Unspecified
·
Hotel - Catering
·
Receptionist
Description
Une entreprise parapublique dans le cadre de ses activités met en place un Département Assainissement.

Cameroun RHpour le compte du client recrute les postes et services suivants:

1- Planification
Responsable de la planification (01)
2- Approvisionnement de boue de vidange
Responsable de réception (01)
Collecteurs / cureurs (06)
Chauffeurs hydrocureurs (02)
3- Production de biogaz
Responsable de production (01)
Technicien de production (04)
Agents d'embouteillage (02)
Responsable canalisation (01)
Chef de contrôle qualité (01)
4- Production des engrais
Responsable agricole (01)
Technicien agronome spécialisé dans la production d'engrais (02)
Technicien en biométhanisation (02)
5- Laboratoire
Responsable laboratoire (01)
6- Logistique et maintenance :
Responsable logistique (01)
Responsable maintenancier (01)
Maintenancier des centrales biogaz (02)
Maintenancier des sites de production d'engrais agricole (02)
7- Commerciale :
Commerciaux produits (02)
Assistant commerciaux (02)
8- Magasin et stocks
Responsable du stockage (01)
Application Documents
» Curriculum Vitae

NOTE: SCAMMERS ARE MORE AND MORE SMART! Never send money to a stranger during a recruitment process for any reason! And If ever you should, please do so at your OWN RISK!
Appy Instructions
Pour chaque dépôt de candidature, les intéressé(e)s devront envoyer leur CV en précisant dans l'objet du mail le service et le poste visés à l'adresse suivante : contact@cameroun-rh.com. Faute de quoi, votre candidature ne sera prise en considération. Seuls les candidats shortlistés seront contactés
La date limite est fixée le 25 NOVEMBRE 2022
Receive our offers instantly on: