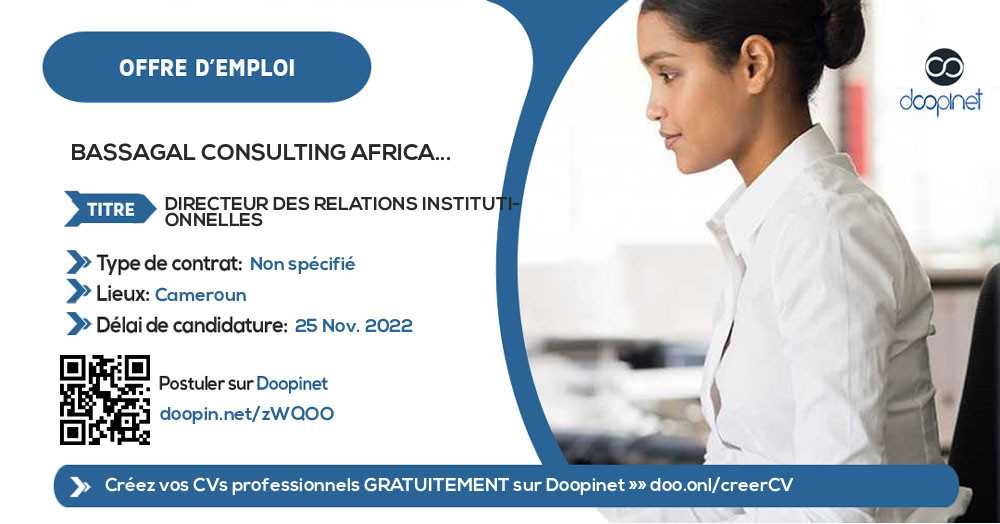 DIRECTEUR DES RELATIONS INSTITUTIONNELLES – Douala - Cameroun
Douala - Cameroun, Littoral, Cameroon
·
25 Nov. 2022
·
Unspecified
·
Communication
·
Others
Description
BASSAGAL CONSULTING AFRICA recrute, pour une entreprise dans le domaine des

produits de grande consommation en pleine expansion: UN (01) DIRECTEUR DES RELATIONS INSTITUTIONNELLES (Réf. DRI0122)

Poste basé à : Douala

Missions / Responsibilities / Activities
• Guider la direction en matière de communications institutionnelles, de relations avec les publics internes et externes; Administrer l'ensemble des directives et programmes relatifs à son champ d'activités,
• Assurer la protection de la réputation de l'Entreprise dans les communications internes et externes, les relations avec les gouvernements et les parties prenantes, la collectivité ainsi qu'avec les partenaires et industries;
• Veiller à l'efficience et à l'efficacité des plans de communications, de promotion et de relations publiques et s'assure de leur cohérence avec la mission de l'entreprise, par une planification et une mise en oeuvre intégrées et structurées;
• Coordonner les actions visant à planifier et structurer la présence de l'institution dans les médias, pour toute demande institutionnelle;
• Superviser le développement de l'image de marque, sa protection et sa promotion, notamment afin de faire rayonner l'entreprise sur les plans nationaux et internationaux;
• Diriger les efforts de l'entreprise dans la réalisation de sa mission par son influence et sa visibilité auprès des partenaires et du gouvernement; Superviser l'ensemble des activités avec le gouvernement et les collectivités; Exercer une veille stratégique de son secteur d'activités, incluant une veille des risques pour l'entreprise; Coordonner les activités RSE de l'entreprise;
Job Requirements
• Diplômé d'études supérieures en communication, en relations publiques, ou domaine connexe
• Justifier d'une expérience pertinente dans le domaine à des postes managériaux dans des organisations d'envergure
• Maîtrise des relations avec les acteurs du secteur public
• Parfaite connaissance de l'environnement des médias et des médias sociaux;
• Bonne culture du Web et des outils technologiques;
• Organisation et rigueur.
• Aisance rédactionnelle et orale;
Applicant profile
» Experience Level: Medium
» Years of work experience: Between 1 year and 2 years
» Minimum Education Level: Associate's Degree

Application Documents
» Curriculum Vitae

NOTE: SCAMMERS ARE MORE AND MORE SMART! Never send money to a stranger during a recruitment process for any reason! And If ever you should, please do so at your OWN RISK!
Appy Instructions
Les candidats intéressés devraient envoyer leur CV en précisant en objet la référence RCM1622 à: irene.bassagal@bassagal-consulting.com
Les candidatures féminines sont encouragées
La date limite de recevabilité des candidatures est fixée au 25 Novembre 2022.
Seuls les candidats shortlistés seront contactés.
Receive our offers instantly on: