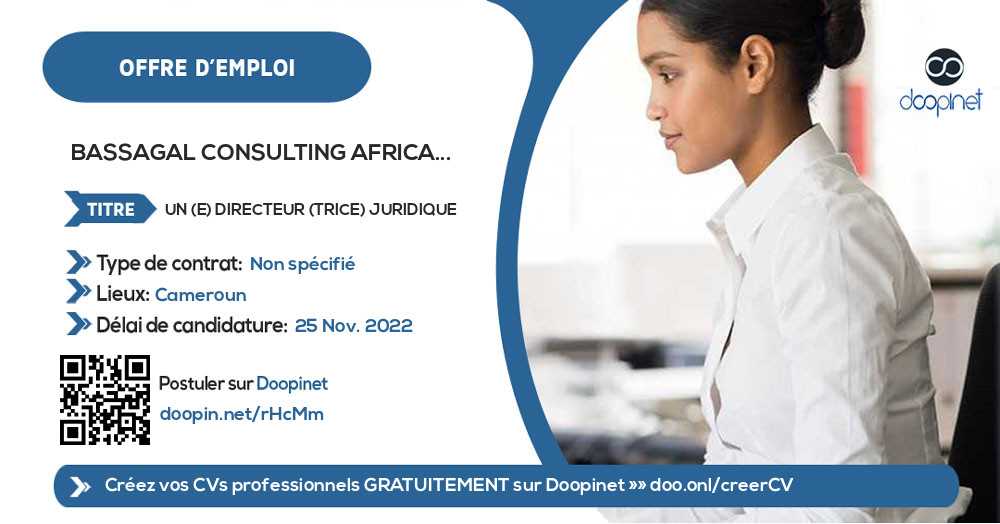 UN (E) DIRECTEUR (TRICE) JURIDIQUE – Douala - Cameroun
Douala - Cameroun, Littoral, Cameroon
·
25 Nov. 2022
·
Unspecified
·
Law - Justice
·
Others
Description
BASSAGAL CONSULTING AFRICA recrute, pour une entreprise du secteur des produits de

grande consommation en pleine expansion :

UN (E) DIRECTEUR (TRICE) JURIDIQUE (Réf. RJ0222)

Poste basé à Douala

Missions / Responsibilities / Activities
• Protéger les intérêts de l'entreprise sur le plan administratif, commercial, fiscal et social;
• Évaluer les risques des opérations réalisées et imaginer les montages juridiques les plus avantageux pour l'entreprise;
• S'assurer que les projets et les décisions prises dans le cadre des contrats (travail, commerciaux) ou de contentieux sont conformes à la législation;
• Veiller à l'application de la loi auprès de tous les services (opérations, développements intègres et franchises, achats, ressources humaines etc..);
• Vérifier la légalité des opérations de l'entreprise;
• Conseiller l'entreprise dans ses prises de décisions;
• Opérer une veille juridique pour procéder aux adaptations nécessaires et saisir de nouvelles opportunités;
• Défendre les intérêts de l'entreprise en cas d'actions à son encontre;
• Suivre les résultats des différentes opérations / campagnes par rapport aux objectifs préalablement fixés;
• Exercer un rôle préventif auprès de l'entreprise afin de lui éviter d'encourir des risques juridiques
• Assurer le secrétariat du conseil d'administration.
Job Requirements
• Vous justifiez d'une expérience pertinente à un poste similaire;
• Maîtrise des règles et des normes juridiques à respecter au sein d'une entreprise;
• Connaissance des procédures légales;
• Bonne expression écrite et verbale;
• Avoir un esprit d'équipe et un bon relationnel.
Applicant profile
» Years of work experience: Between 1 year and 2 years

Application Documents
» Curriculum Vitae

NOTE: SCAMMERS ARE MORE AND MORE SMART! Never send money to a stranger during a recruitment process for any reason! And If ever you should, please do so at your OWN RISK!
Appy Instructions
Les candidats intéressés devraient:
Cliquer sur le bouton Postuler pour envoyer votre candidature en ligne
Ou envoyer leur CV en précisant la référence RJ0222 à l'adresse Suivante : yannick.billigha@bassagal-consulting.com
NB : Les candidatures féminines sont encouragées.
La date limite de recevabilité des candidatures est fixée au 25 novembre 2022.
Seuls les candidats shortlistés seront contactés.
Receive our offers instantly on: