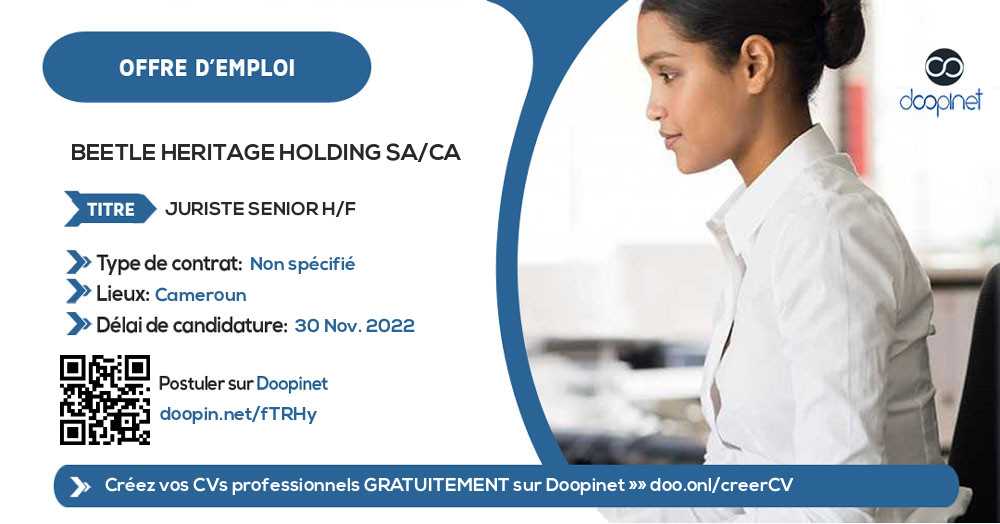 JURISTE SENIOR H/F – Douala
Douala, Littoral, Cameroon
·
30 Nov. 2022
·
Unspecified
·
Law - Justice
·
Company lawyer
Description
BEETLE HERITAGE HOLDING SA/CArecherche actuellement pour son siège basé à Douala, un (01)JURISTE SENIOR H/F.
Missions / Responsibilities / Activities
Le/la Juriste Senior rattaché(e) à la Direction Générale aura pour mission d'assister le Chef de Département juridique dans le conseil et la sécurisation juridique des activités du groupe.
Activités
Conseiller et assister les directions et les autres entités du Groupe en matière juridique ;
Effectuer le montage, l'examen et la validation juridique des contrats, chartes, protocole d'accord et, en grosso modo, de tout accord de volonté multilatéral ou unilatéral ;
Alerter les directions du groupe sur les risques juridiques liés à l'exercice de leurs activités et leurs orientation ;
Instruire les dossiers juridiques et représenter le groupe devant les instances administratives et judiciaires
Apprécier l'opportunité ou les risques d'engager ou de poursuivre des procédures contentieuses et, le cas échéant, conduire un traitement amiable des litiges ;
Effectuer la veille juridique et réglementaire ;
Transférer tous les courriers reçus à sa hiérarchie pour orientation ;
Saisir les courriers à caractère juridique ;
Assurer la représentation de l'entreprise auprès des institutions du travail, des auxiliaires de justice, des Ministères et certaines Directions administratives ;
Effectuer les recouvrements de créances ;
Exécuter toutes les missions et directives du Président Directeur Général et de sa hiérarchie, dans l'intérêt du Groupe.
Job Requirements
Niveau académique : Minimum Bac+4/5 en droit des affaires et des entreprises ;
Formation et/ou qualification complémentaires : Disposer des connaissances approfondies en droits des sociétés, droit commercial, droit foncier, droit des sûretés, propriété intellectuelle, des connaissances en fiscalité serait un atout ;
Expérience professionnelle : 05 années d'expérience avérée à un poste similaire ou exercice de la profession d'Avocat pendant au moins 2 ans;
Age minimum : 35 ans + forte disponibilité et mobilité.
Aptitude managériale et organisationnelle
Maîtrise de l'outil informatique (Pack office) ;
Avoir une maîtrise parfaite du français et de l'anglais (parlé et écrit).
Vous appréciez travailler en équipe et êtes résistant au stress. Votre réactivité, votre disponibilité, vous permettront de vous épanouir pleinement au sein de notre société.
Applicant profile
» At least 35 years old
» Experience Level: Medium
» Years of work experience: Between 5 years and 8 years
» Minimum Education Level: Master's Degree

Application Documents
» Lettre de motivation
» Curriculum Vitae

NOTE: SCAMMERS ARE MORE AND MORE SMART! Never send money to a stranger during a recruitment process for any reason! And If ever you should, please do so at your OWN RISK!
Appy Instructions
Cliquer sur le bouton Postuler pour envoyer votre candidature en ligne
Ou envoyez-nous vos documents de candidature à l'adresse email recrutement@africafooddistribution.com
Deadline : 30 Novembre 2022
Microsoft OFFICE
Receive our offers instantly on: