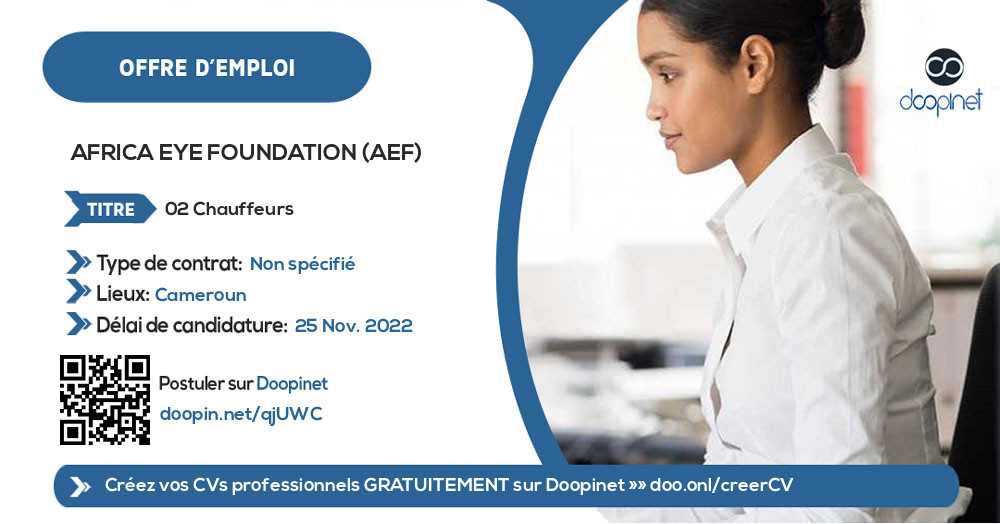 02 Chauffeurs – Yaoundé
Okola, Yaoundé, Centre, Cameroon
·
25 Nov. 2022
·
Unspecified
·
Transport - Logistic
·
Driver
Description
Africa Eye Foundation Cameroon (AEF) , recrute 02 Chauffeurs pour son hôpital Magrabi ICO Cameroon Eye Institute (MICEI) à Obak, sur la route d'Okola situé à environ 10 km de Yaoundé.
Missions / Responsibilities / Activities
Entretien et gestion des véhicules dans le respect de la politique d'utilisation des véhicules de Magrabi ICO Cameroon Eye Institute.
Nettoyer le véhicule et effectuer des vérifications de routine pour s'assurer qu'il dispose des outils de travail appropriés sur une base quotidienne.
Faire le plein du véhicule à l'aide d'une carte de carburation et l'inscrire sur la fiche d'enregistrement du véhicule dans les délais impartis conformément à la politique d'utilisation des véhicules.
Garer le véhicule en toute sécurité à l'endroit désigné à la fin de chaque journée de travail, au plus tard à 18 heures.
S'assure qu'une autorisation officielle de l'administration est obtenue pour les déplacements en dehors des heures officielles.
S'assurer que les déplacements et le kilométrage du véhicule sont transférés consignés dans le carnet de bord du véhicule afin de conserver et de suivre les déplacements du véhicule sans qu'aucun détournement de véhicule ne soit signalé.
Informer le directeur de l'établissement et le service des achats au moins deux mois avant la date d'expiration des documents relatifs aux véhicules (assurance, certificat de contrôle technique, etc.) afin qu'ils soient renouvelés sans que la Sécurité Routière et la police ne pose pas de questions.
Rapporter immédiatement à l'administration, tous les accidents ou problèmes impliquant les véhicules de Magrabi ICO Cameroon Eye Institute.
Respecter les dispositions de la politique des véhicules à moteur et des voyages de Magrabi ICO Cameroon Eye Institute.
Job Requirements
Quel est le profil parfait pou
Connaitre les techniques de sécurité en matière de conduite défensive (seront testées)
Avoir un permis de conduire valide.
Avoir des compétences de base en mécanique automobile
Avoir une bonne connaissance du code de la route
Être patient, adaptable, flexible, capable d'improviser et de rester réactif sous pression
Avoir une bonne compétence interpersonnelle et esprit d'équipe
Avoir une expérience dans le secteur des ONG serait un avantage
r votre nouvelle position?
Application Documents
» Lettre de motivation
» CNI
» Copie du diplôme le plus élevé.
» Photocopie du permis de conduire
» Curriculum Vitae

NOTE: SCAMMERS ARE MORE AND MORE SMART! Never send money to a stranger during a recruitment process for any reason! And If ever you should, please do so at your OWN RISK!
Appy Instructions
Lettre de motivation
Photocopie de la carte d'identité nationale
Photocopie du permis de conduire
Curriculum vitae mis à jour avec 3 références
Copie du diplôme le plus élevé.
COMMENTAIRE POSTULER ?
Le dossier de candidature doit être envoyé par courrier électronique à l'adresse suivante info@micei.org avec pour objet "candidature pour le poste Chauffeur" Ou déposé à Magrabi ICO Cameroon Eye Institute dans une enveloppe fermée avec pour objet candidature pour le poste de Chauffeur ".
NB:
Les personnes vivant avec un handicap sont encouragées à postuler.
Seuls les candidats présélectionnés seront informés
Date limite : vendredi le 25 novembre 2022
Receive our offers instantly on: