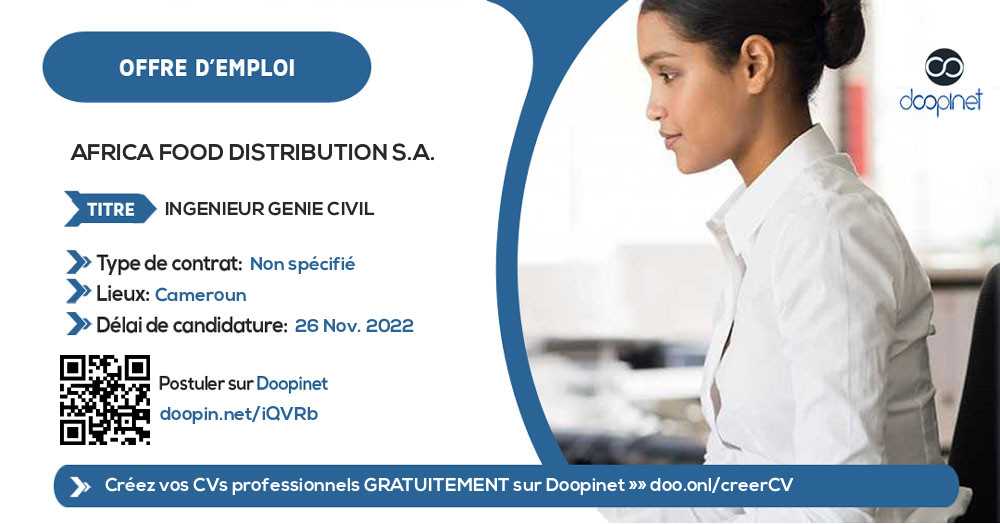 INGENIEUR GENIE CIVIL – Douala - Cameroun
Douala - Cameroun, Littoral, Cameroon
·
26 Nov. 2022
·
Unspecified
·
Architect - Public works - Town planning - Mines
·
Construction Engineer / Civil engineer
Description
Titre du poste : INGENIEUR GENIE CIVIL,

Entreprise : Africa Food Manufacture MANUFACTURE,
AFRICA FOOD MANUFACTURE recherche actuellement pour son entité de la SEMOULERIE basé à Douala, un (01) INGENIEUR DE GENIE CIVIL
Missions / Responsibilities / Activities
Rattaché à la Direction Projet, l'ingénieur de Génie Civil a pour mission de :

Organiser et conduire les projets de Génie civil de bout en bout ;
Assumer la responsabilité des différentes phases, depuis l'initiation jusqu'à la clôture et la mise en service de l'ouvrage ;
Optimiser les paramètres liés au projet afin de délivrer le meilleur résultat possible.
Activités
Participer aux études de faisabilité du projet et analyser les macros objectifs du projet ;
Planifier l'ensemble des projets en tenant compte des différents domaines d'activités référencés par le PMI (Project Management Institute) ;
Conduire l'exécution des projets en tenant compte des plans validés ;
Assurer le contrôle des différents livrables par tâches, lots et pour l'ensemble du projet ;
Faire valider tous les changements relatifs aux plans initiaux par le change control board. ;
Suivre l'avancement des projets et le niveau d'engagements des ressources des projets ;
Conduire les phases de test pour vérifier la conformité du livrable final par rapport aux besoins utilisateur exprimés ;
Maitriser les couts des projets tout en assurant sa livraison dans les délais et la qualité requise ;
Livrer et faire accepter le produit final au client/sponsor ;
Analyser le rendu final des projets et documenter les leçons apprises ;
Archiver de façon appropriée toute la documentation liée aux projets. ;
Assurer le suivi auprès des clients ;
Négocier des prestations avec les fournisseurs ;
Participer à l'élaboration des réponses aux appels d'offres ;
Evaluer et faire progresser les professionnels travaillant sur son projet ;
Relire et assimiler les niveaux d'engagements traduits par le contrat ;
Job Requirements
· Titulaire d'un Bac+5 en Génie Civil en Génie Civil, électricité ou construction métallique.
· Une Certification en gestion de projet (PMP…) serait un atout.
· Avoir 5 années d'expérience dans un poste similaire ;
· Avoir une maitrise des techniques d'analyse des besoins et de la valeur ;
· Avoir une maitrise des techniques de gestion des risques liés au projet ;
· Avoir une maitrise des principes de gestion de projet ;
· Avoir une maitrise des techniques d'animation et de suivi des projets ;
· Avoir une capacité a rédiger des cahiers de charges et dessiner des plans architecturaux ;
· Avoir une maitrise des normes et procédures relatives au projet à exécuter ;
· Avoir une maitrise des techniques de construction génie civil, électricité, HVAC, et génie métallique ;
· Avoir une maitrise des techniques de dessins architecturaux ;
· Organisé et rigoureux, dynamique, méthodique et motivé.
Applicant profile
» Experience Level: Medium
» Years of work experience: Between 5 years and 8 years
» Minimum Education Level: Master's Degree

Application Documents
» Lettre de motivation
» Curriculum Vitae

NOTE: SCAMMERS ARE MORE AND MORE SMART! Never send money to a stranger during a recruitment process for any reason! And If ever you should, please do so at your OWN RISK!
Appy Instructions
Cliquer sur le bouton Postuler pour envoyer votre candidature en ligne
Ou envoyez-nous vos documents de candidature à l'adresse email recrutement@africafoodmanufacture.com
Dossier

Curriculum vitae mis à jour avec références ;
Lettre de motivation ;

Il est recommandé aux candidats de postuler en mentionnant en objet l'intitulé du poste publié. Seules les candidatures conformes seront retenues pour la suite.
DELAI DE RECEVABILITE DES CANDIDATURES LE 26 NOVEMBRE 2022.
Receive our offers instantly on: