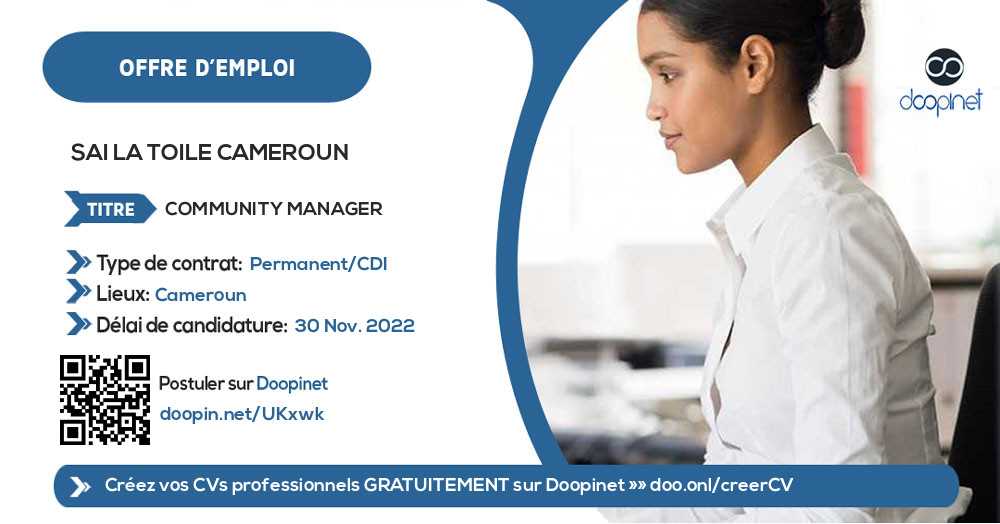 COMMUNITY MANAGER – Douala
Douala, Littoral, Cameroon
·
30 Nov. 2022
·
Permanant
·
Internet - Web
·
Community Manager
Salary: 25 - 30 / Monthly
Description
OFFRE D'EMPLOI: COMMUNITY MANAGER
Type d'offre: Emploi
Secteur: Immobilier
Lieu: Akwa-Douala
Poste: Community manager
Entreprise: SAI LA TOILE

Missions / Responsibilities / Activities
MISSIONS PRINCIPALES :
Élaborer le kit d'accueil des nouveaux embauchés (Document du secteur Immobilier, vidéos, plaquettes de présentation de l'entreprise et de ses métiers…)
Définir et élaborer la ligne éditoriale
Animer et gerer au quotidien les pages sociales de l'entreprise (mise en ligne des reportages, vidéos, photos, rubriques…) et faire de proposition sur les évolutions (fonctionnalités, ergonomie…) auprès de la hiérarchie.
Assister le Responsable Communication & Marketing dans la conception des nouveaux supports de communication interne (images, montage de flyers, brochures, catalogues
Élaborer et faire respecter la charte graphique (logos, supports de présentation Institutionnels…) en lien avec les équipes créatives (Animateur web, graphistes…) et de la production (imprimeries…).
Rechercher de nouveaux médias sociaux permettant d'étendre l'influence de l'entreprise.
Veiller à la visibilité des produits & services de l'entreprise auprès des internautes.
Procéder à la traduction des documents en anglais
AUTRES MISSIONS :
Assister le Responsable Communication & Marketing dans l'organisation des évènements internes et externes de l'entreprise
Participer à la conception, la réalisation, et l'actualisation du (des) site(s) Internet, afin de promouvoir l'entreprise sur le web.
Job Requirements
PROFIL RECHERCHE :
Niveau minimum : Bac+5 en communication / marketing
Expérience professionnelle : minimum (2) ans au poste de Community manager
Parfaitement bilingue
Age : 25-30 ans
APTITUDES PROFESSIONNELLES :
Être travailleur, dynamique et organisé
Avoir le contact facile
Savoir travailler sous pression
Avoir de bonnes capacités rédactionnelles
Avoir le sens de l'anticipation
Applicant profile
» Experience Level: Medium
» Years of work experience: Between 2 year and 3 years
» Minimum Education Level: Master's Degree

Application Documents
» Curriculum Vitae

NOTE: SCAMMERS ARE MORE AND MORE SMART! Never send money to a stranger during a recruitment process for any reason! And If ever you should, please do so at your OWN RISK!
Appy Instructions
Cliquer sur le bouton Postuler pour envoyer votre candidature en ligne
Ou envoyez-nous vos documents de candidature à l'adresse email emploi@sai-latoile.com

Receive our offers instantly on: