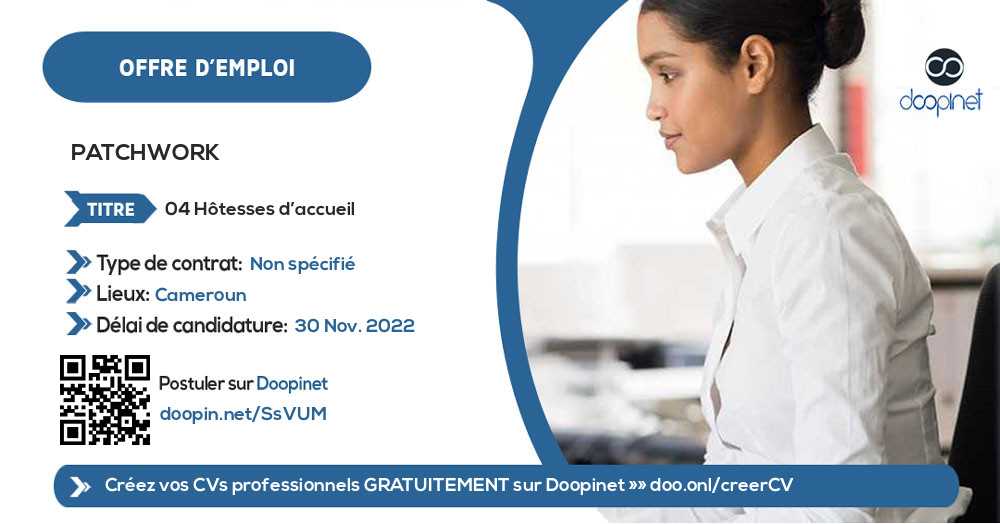 04 Hôtesses d'accueil – Yaoundé
Yaoundé, Centre, Cameroon
·
30 Nov. 2022
·
Unspecified
·
Trade - Sale - Distribution
·
Seller / Sales hostess
Description
Une entreprise de la place recherche 04 Hôtesses d'accueil
Lieu de travail Yaoundé : Centre-ville

Missions / Responsibilities / Activities
Accueillir les clients
Présenter aux clients nos différentes offres et les convaincre de laisser leurs différents contacts (e-mail ; numéro de téléphone) ;
Raccompagner les clients après achats.
Job Requirements
Niveau bac 2 minimum
Bonne expression orale
Aimer le contact humain et savoir gérer les situations de stress.
Être ponctuelle et fiable.
Avoir une excellente présentation physique
Avoir une bonne condition physique, être capable de travailler debout.
Applicant profile
» Minimum Education Level: Associate's Degree

Application Documents
» CNI
» Photo entière actuelle
» Curriculum Vitae

NOTE: SCAMMERS ARE MORE AND MORE SMART! Never send money to a stranger during a recruitment process for any reason! And If ever you should, please do so at your OWN RISK!
Appy Instructions
Cliquer sur le bouton Postuler pour envoyer votre candidature en ligne
Ou Envoyez à votre dossier de candidature ( CV actualisé, 1 photo entière actuelle, CNI) à l'adresse patchworkemploi@gmail.com

OU SUR WHATSAPP 650 570 229
Délai: le 30/11/2022
Receive our offers instantly on: