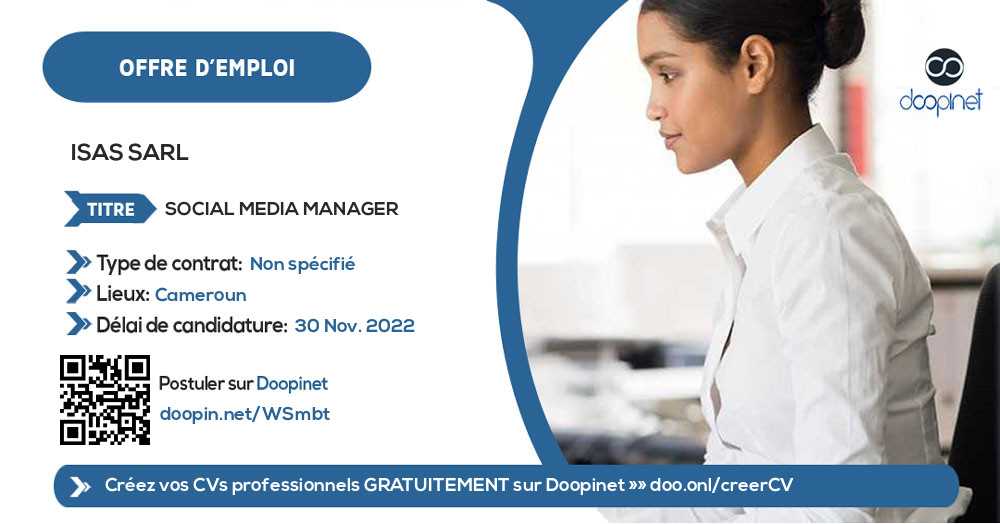 SOCIAL MEDIA MANAGER – Douala
Bonabéri, Douala, Littoral, Cameroon
·
30 Nov. 2022
·
Unspecified
·
Advertising - Marketing
·
Social media manager
Description
APPEL A CANDIDATURE SOCIAL MEDIA MANAGER

Spécialisée dans la production, le conditionnement et la distribution des produits agricoles
et d'élevage, FARM INDUSTRY Sarl est une entreprise healthcare et agroalimentaire dont la
particularité se trouve dans les produits halieutiques. Ses produits de qualité, en quantité et
à des prix hautement compétitifs sont destinés aux professionnels de la distribution et aux
consommateurs finaux.
FARM INDUSTRY Sarl entre dans une phase de croissance importante de son activité.


Les challenges à venir sont dans un premier temps, la forte croissance de ses activités B2B et
dans un second temps, la mise en œuvre d'activités de communication à grande échelle.
Pour cette raison FARM INDUSTRY Sarl recrute un Social Média Manager capable
d'accompagner et de stimuler cette croissance via la définition des stratégies marketing.

Le social media manager gère l'image et le rayonnement de l'entreprise sur les réseaux
sociaux. Il définit le positionnement de l'entreprise dans l'écosystème digital et se base sur
ses analyses pour élaborer une stratégie marketing et de contenus afin de valoriser l'image
de l'entreprise.

Il identifie les cibles et leurs besoins puis anime les réseaux sociaux, imagine
des campagnes et optimise l'image digitale de l'entreprise. Il assure une veille
concurrentielle et technologique en observant les tendances du web afin d'être toujours à
l'avant-garde des méthodes de communication et des nouveaux moyens d'optimiser l'e-réputation de l'entreprise.

POSITIONNEMENT HIÉRARCHIQUE
Le social media manager est placé sous l'autorité directe du Directeur Général et en
collaboration avec l'IT et le Community manager.

Ce poste est basé à Douala – Bonabéri.
Missions / Responsibilities / Activities
Le social media manager est chargé de :
- Définit la stratégie social média à adopter, en coordination avec la stratégie marketing
- Optimise la visibilité de l'entreprise sur les réseaux et sélectionne les plateformes sociales (Twitter, Facebook, Instagram, LinkedIn, Snapchat Pinterest…) adaptées à la stratégie de l'entreprise - Valorise son image et suit son e-réputation à l'aide des outils analytiques
- Gère le budget et mesure la performance
- Se tient au courant des évolutions de son secteur d'activité (veille technologique) et effectue des benchmarks de la concurrence
- Définit la stratégie éditoriale globale et ses déclinaisons par réseaux (pression/force/format...)
Job Requirements
- Formation niveau bac +2 ou 3 en Community management ou marketing digital
- Être âgé(e) entre 18 et 25ans Compétences requises :
- Bonne connaissance de l'univers autour de sa communauté web : langage, codes sociaux, acteurs référents (influenceurs), réseau sociaux utilisés,
- Excellente connaissance de son entreprise : image de marque, histoire, stratégie, organisation, positionnement, …
- Maîtrise des nouveaux médias de communication : réseaux sociaux professionnels (LinkedIn) ou non (Facebook, Instagram, Twitter), les médias vidéo (YouTube…) ainsi que leurs outils de gestion.
- Maîtrise des outils de veille et de suivi de l'e-réputation de la marque de l'entreprise.
- Connaissance des tendances actuelles et capacité à les exploiter (partenariats, événements, contenus, …)
- Maîtrise de l'anglais, et possiblement d'autres langues, afin de permettre une compréhension complète de l'activité médias. Compétences relationnelles
- Grande curiosité afin de rester en veille permanente face à l'instantanéité des réseaux sociaux et l'évolution rapide du digital,
- Sens aigu de l'écoute afin de comprendre les attentes de la communauté de la marque de l'entreprise et celles de la direction,
- Aisance rédactionnelle et bonne pédagogie afin d'exprimer avec précision et justesse la volonté de la marque de l'entreprise sur les réseaux sociaux mais aussi expliquer en interne la ligne éditoriale,
- Capacité d'adaptation, de créativité et de réactivité afin de faire face en tout temps et rapidement aux écueils que peuvent rencontrer la marque,
- Capacité de travailler efficacement en équipe,
- Fiabilité et ponctualité dans la livraison des projets.
- Contrat à durée indéterminée avec période probatoire de 3 mois renouvelable 1 fois.
- Gratification de fin d'année selon les résultats et performances individuelles et collectives
Applicant profile
» 18 - 25 years old
» Experience Level: Medium
» Minimum Education Level: Associate's Degree

Application Documents
» Lettre de motivation
» Copie des diplômes
» Curriculum Vitae

NOTE: SCAMMERS ARE MORE AND MORE SMART! Never send money to a stranger during a recruitment process for any reason! And If ever you should, please do so at your OWN RISK!
Appy Instructions
DOSSIER DE CANDIDATURE EN FORMAT PDF ET EN FRANÇAIS UNIQUEMENT
- CV (nommé avec le nom du candidat suivi du type de document, ex : NOM Prénom-CV)
- Lettre de motivation (nommé : NOM Prénom-LM)
- Copie des diplômes à partir du baccalauréat (nommé : NOM Prénom-Baccalauréat, etc.)
NB : Un dossier incomplet ou comportant des pièces mal nommées ne sera pas examiné.


Le dossier de candidature est à adresser par e-mail à : recruitment@isas-saphiex.com avec en objet : « Recrutement Social Media Manager »

Clôture des candidatures : 30/11/2022
Receive our offers instantly on: