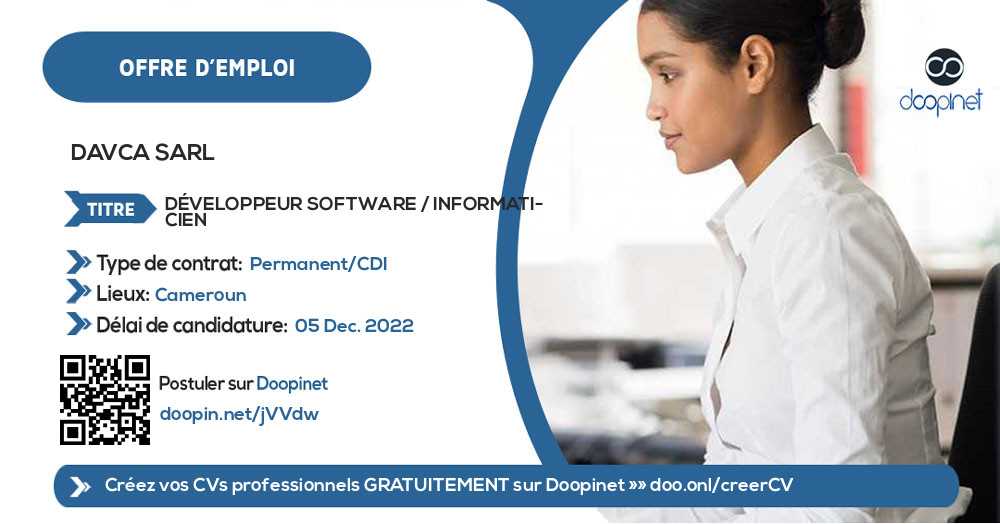 DÉVELOPPEUR SOFTWARE / INFORMATICIEN – Yaoundé
Yaoundé, Centre, Cameroon
·
05 Dec. 2022
·
Permanant
·
IT - Electronics - Digital
·
Developer
Description
OFFRE D'EMPLOI: DÉVELOPPEUR SOFTWARE / INFORMATICIEN
DAVCA
est une société spécialisée dans les prestations de services
informatiques autour de solutions PLM, CAD, B.I et développement de
logiciel.
Dans
le cadre de l'extension de nos activités, nous recherchons 2
développeurs Software de niveau BAC + 3 ou plus en informatique.
Contexte :
L'emploi
proposé porte sur un projet lancé en interne ayant pour vocation de
développer des extensions pour le PLM WindChill afin :
D'adapter l'aspect visuel aux besoins du client par la customisation des options
De créer des reports sous différentes formes
D'introduire des nouvelles fonctionnalités en Add-on pour faciliter le process
Type d'emploi: Temps plein
Missions / Responsibilities / Activities
L'objectif de cet emploi est d'initier un cadre de travail professionnel afin de faciliter le développement d'extensions à la solution PLM Windchill dans un environnement collaboratif. Le travail consistera à :
Implémentation en langage JAVA des modules d'un produit PLM (Windchill)
Analyse des bases de données (Oracle et MS SQL Server)
Programmation : Java et C++
Customisation d'un produit PLM et déploiement
Job Requirements
Langage de programmation :
Java, PHP, Perl, C++ Base de données : SQL Server / MySQL

Compétences demandées :
Connaissance des langages de programmation Java ou C#, .NET
Connaissance de SQL et des applications de base de données telles que Microsoft SQL ou ORACLE.
Expérience dans un environnement de développement agile et/ou DevOps.
Expérience dans la spécification et de l'implémentation d'interfaces (REST, SOAP ou HTTP)
Expérience dans les applications mobiles,
La connaissance des logiciels PLM et du processus PLM serait un atout.
Anglais commercial courant nécessaire, des compétences linguistiques en allemand seraient un avantage.
Être rigoureux, organisé, créatif techniquement, et capable d'autonomie et de travail sous pression.
Applicant profile
» Experience Level: Medium

Application Documents
» Photocopie des diplômes
» Lettre de motivation
» Curriculum Vitae

NOTE: SCAMMERS ARE MORE AND MORE SMART! Never send money to a stranger during a recruitment process for any reason! And If ever you should, please do so at your OWN RISK!
Appy Instructions
Cliquer sur le bouton Postuler pour envoyer votre candidature en ligne
Ou les dossiers composés de la lettre de motivation, du curriculum vitae et de la photocopie des diplômes seront envoyés au plus tard le 05 Décembre 2022 à l'adresse ci-après : recrutement@davca.fr

HTTP Perl SOAP C++ DevOps Java .Net SQL Server C# MySQL API REST PHP
Receive our offers instantly on: