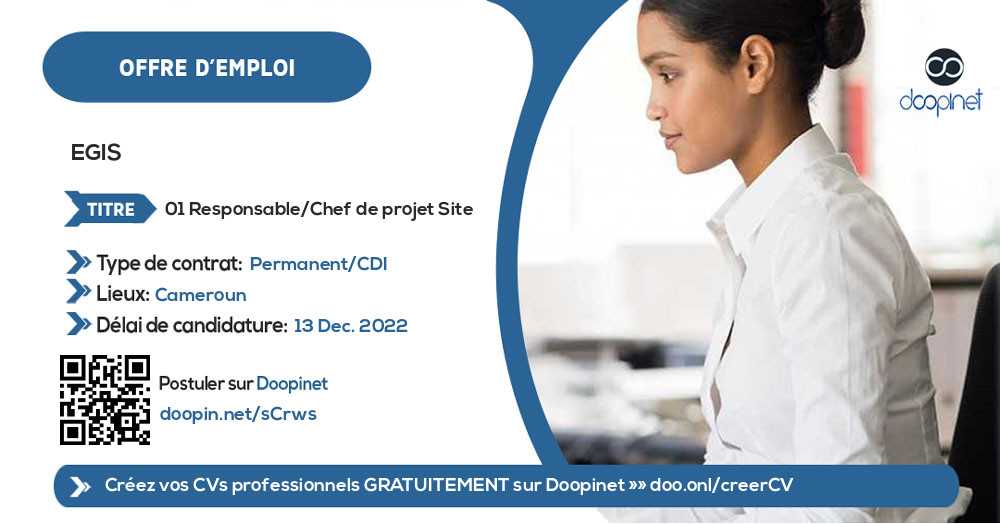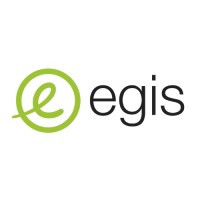 01 Responsable/Chef de projet Site – Yaoundé
Yaoundé, Centre, Cameroon
·
13 Dec. 2022
·
Permanant
·
Project Management
·
Project Manager
Description
Egis Cameroun
recherche
01 Responsable/Chef de projet Site
EFE pour l'implémentation des Equipements Fixe d'Exploitation au Cameroun H/F

Contrat:Contrat à durée indéterminée


Contexte spécifique à la Business Line / Région
Au sein de la Business Line Montage de projets, Exploitation et Services (BL MENS), nous contribuons à développer et renforcer les voies de transport en tant que connexions vitales entre les hommes et les territoires.
Quelques exemples de projets ? Autoroute A63 (France), M25 et M40 (UK), tunnel de Dublin (Irlande), WestConnex M4 et M5 (Australie), Golfo Centro (Mexique), RN1 au Congo-Brazzaville ; GoSafe (Irlande) ; stationnement en voirie à Amsterdam et Paris; ZFE Manchester ; services aux usagers de la route.

DESCRIPTION DU POSTE
Le projet concerne le financement, la conception, la construction, l'exploitation et la maintenance de 14 postes de péage repartis sur le territoire Camerounais dans le cadre d'un contrat de partenariat Public Privé.
Au sein du projet, Egis participe notamment au Groupement de Conception-Construction et est en charge des Equipements Fixe d'Exploitation (EFE). Les EFE incluent principalement les systèmes et équipements de péage.


Localisation du poste:Afrique, Cameroun
Lieu:Yaoundé
Missions / Responsibilities / Activities
Le/la responsable site EFE aura pour principale mission d'assurer le suivi et la gestion des activités EFE sur site en coordination avec la direction de projet EFE. Il est le représentant sur site d'Egis pour les EFE.
ACTIVITÉS
Ses activités principales incluront :
La gestion et la coordination des activités site d'installation des équipements EFE
Travaux prérequis à l'installation des EFE réalisés par le constructeur (interfaces génie civil, électrique et télécom)
Suivi du transport et de l'acheminement des équipements jusqu'aux sites
Travaux d'installation des EFE réalisés par les sous-traitants EFE
La gestion et la coordination des activités permettant la réception et la mise en service des EFE :
Formation de l'exploitant
Documentation (dossier de recollement, cahiers recettes, PV de réception,…)
Suivi de la Levée de réserves
La gestion et la coordination des sous-traitants EFE sur site
Le suivi du planning, la gestion des risques et le reporting des activités EFE sur site
La coordination avec les tiers :
Autres entités du projet sur site : partenaire constructeur, société d'exploitation, société concessionnaire,…
Autorités publiques et administratives (douane, autorités de contrôle projet,…)
La coordination avec la direction de projet EFE localisée en France
Job Requirements
De formation supérieure, vous justifiez d'au moins 5 années d'expérience professionnelle.
Une connaissance du continent africain ainsi qu'une expérience professionnelle sur le continent africain, idéalement dans les pays de la zone CEMAC sont indispensables pour le poste.
Compétences techniques :
Formation initiale d'ingénieur généraliste ou dans les domaines électronique/électricité/télécom/IT ou génie civil
Expérience significative sur des projets autoroutiers de construction et/ou de bonnes connaissances techniques dans le domaine des EFE (Equipements Fixes d'Exploitation) tels que les équipements péage, trafic, ITS, télécommunication, IT, électromécanique.
Compétences informatiques de base (MS Word, Excel, PowerPoint) nécessaires
Outil de planification Microsoft Project
Autres Compétences :
Expérience et connaissance de la gestion de projet
Autonomie, initiative, rigueur, volonté
Animation de réunion de chantier
Esprit d'équipe
La maitrise du français sera indispensable pour mener à bien cette mission.
La maitrise de l'anglais sera un réel avantage pour permettre un développement de carrière au sein du groupe Egis.
Langues
Français (5- Expérimenté)
Anglais (5- Expérimenté)
Le/la futur(e) collaborateur(trice) qui occupera la fonction décrite s'engage à être en conformité avec les grands principes d'Egis décrits dans les Codes d'Ethique, de Déontologie et dans le Code de management des Ressources Humaines. Il / elle s'engage également dans ses actions à être en conformité avec les règles internes et locales qui s'appliquent au sein de sa société ainsi qu'avec les processus en matière de Santé et de Sécurité au travail.
Applicant profile
» Experience Level: Medium
» Years of work experience: Between 5 years and 8 years
» Minimum Education Level: Engineer

Application Documents
» Curriculum Vitae

NOTE: SCAMMERS ARE MORE AND MORE SMART! Never send money to a stranger during a recruitment process for any reason! And If ever you should, please do so at your OWN RISK!
Appy Instructions
Veuillez cliquer sur le bouton Postuler ci-dessous pour soumettre votre candidature
Receive our offers instantly on: