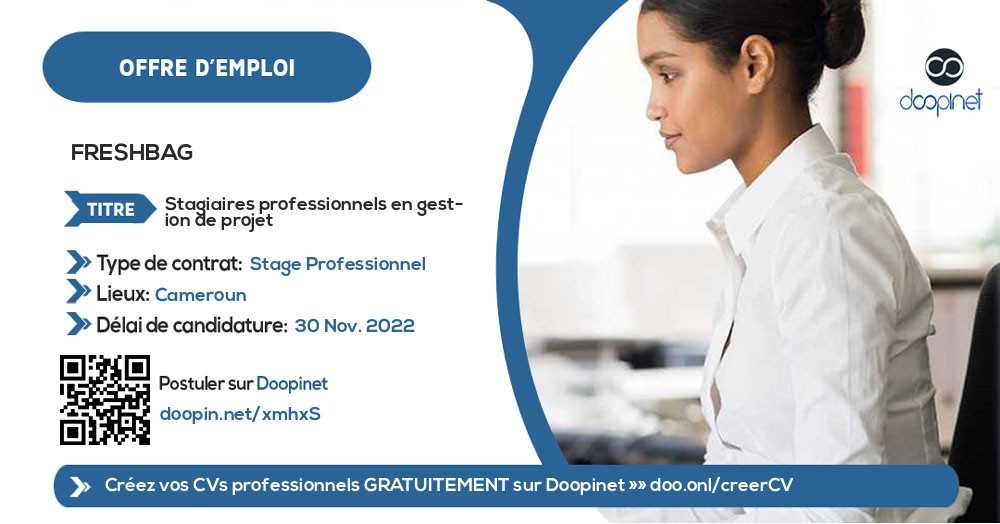 Stagiaires professionnels en gestion de projet – Cameroun
Lieu, Non spécifié, Cameroon
·
30 Nov. 2022
·
Internship
·
Project Management
·
Project Chief Assistant
Description
La Société coopérativeFreshbag, recrute des Stagiaires professionnels engestion de projetavec opportunité d'emploi si concluant.
Durée du stage: Le stage aura une durée de 3 mois renouvelable avec possibilité d'emploi CDD si concluant.

Missions / Responsibilities / Activities
En tant que stagiaire professionnel en gestion de projet, sous la supervision du Directeur des Projets, vous serez chargé(e) du pilotage d'un portefeuille de projets et d'atteindre des objectifs de performance, de coût et de délai du projet.
Plus précisément, vos missions s'articuleront comme suit :

Pilotage du/des projet(s) du cahier des charges stratégique et opérationnel jusqu'à la livraison du produit, avec les niveaux de qualité, rentabilité et délais attendus.
Participation aux réunions d'équipe-projet, activités projet, suivi et reporting sur les livrables de bon avancement du/des projet(s) à chaque étape du cycle de vie projet
Communication et reporting sur les activités, l'état d'avancement des livrables du cahier des charges et des résolutions prises lors des points projets.
Job Requirements
De formation Bac +2 minimum en gestion de projet, marketing, administration d'entreprises ou toute spécialité connexe, vous pouvez faire valoir une expérience pertinente dans la gestion de projet avec des résultats « concrets » atteints.
Doté/e de leadership et d'un esprit d'initiative, d'un intellect hors du commun et bon communicateur, vous savez également faire preuve d'organisation, et savez restez serein sous pression.
Vous avez une certaine connaissance et maîtrise des outils techniques associés à la gestion de projet, vous connaissez également les processus de chaînes d'approvisionnement, ainsi que les notions de business model, rentabilité et de ROI.
Être capable de vous exprimer couramment en Français et en anglais courant est un avantage pour ce poste.
Applicant profile
» Experience Level: Medium
» Minimum Education Level: Associate's Degree

Application Documents
» Lettre de motivation
» Curriculum Vitae

NOTE: SCAMMERS ARE MORE AND MORE SMART! Never send money to a stranger during a recruitment process for any reason! And If ever you should, please do so at your OWN RISK!
Appy Instructions
Cliquer sur le bouton Postuler pour envoyer votre candidature en ligne
Ou envoyez-nous votre dossier de candidature (Lettre de motivation adressée au Directeur Général de la Scoops Freshbag et CV) à l'adresse : dev.agtx@gmail.com

Ou par WhatsApp au : 680027705


Date limite de dépôt des candidatures le 30 Novembre 2022
Receive our offers instantly on: