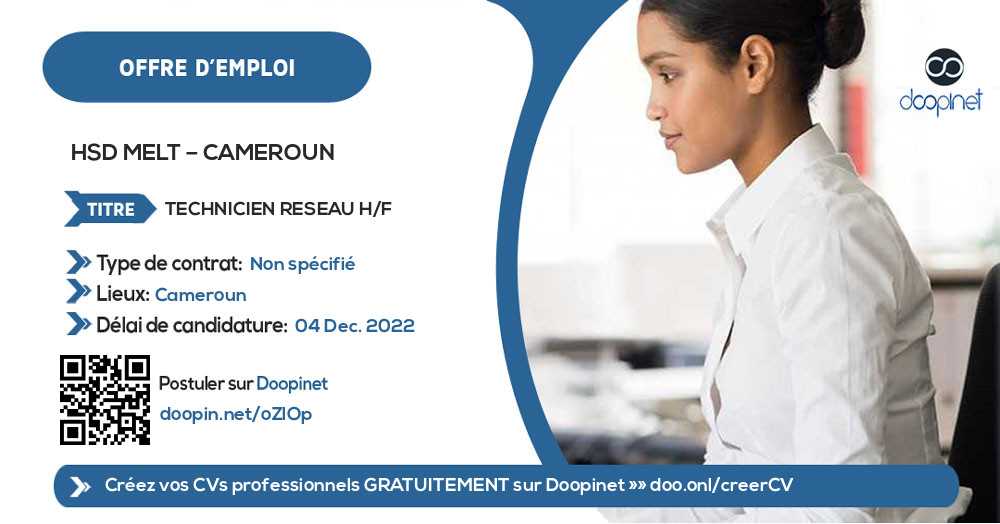 TECHNICIEN RESEAU H/F – Douala - Cameroun
Douala - Cameroun, Littoral, Cameroon
·
04 Dec. 2022
·
Unspecified
·
Information Technology - Electronics - Digital
·
Network & telecommunications technician
Description
Une entreprise multinationale du secteur de l'automobile, recherche unTECHNICIEN RESEAU H/F, pour accompagner le développement de ses activités à Douala, au Cameroun.
Missions / Responsibilities / Activities
Veiller au bon fonctionnement du matériel informatique de l'entreprise;
Installer et paramétrer les réseaux au sein de l'entreprise
Effectuer la maintenance : mises à jour régulières et achats de nouveaux logiciels
Vérifier la sécurité du système
Trouver des solutions en cas de panne.
Job Requirements
Diplôme en Ingénierie Développement Informatique, réseau et maintenance
2 ans d'expérience professionnelle
Compétences requises:
Capacité à gérer des situations de stress
Sens du contact et du service
Maîtrise des outils et technologies informatiques
Connaissance des réseaux (LAN, MAN, WAN...)
Connaissance des systèmes d'exploitation (INUX...)
Qualités :
Applicant profile
» Experience Level: Medium
» Years of work experience: Between 2 year and 3 years
» Minimum Education Level: Engineer

Application Documents
» Curriculum Vitae

NOTE: SCAMMERS ARE MORE AND MORE SMART! Never send money to a stranger during a recruitment process for any reason! And If ever you should, please do so at your OWN RISK!
Appy Instructions
Pour postuler, merci d'envoyer vos CV à l'adresse: cameroon.office@hsd-melt.com ou www.mhd.hsd-melt.com en précisant le poste en objet
Délai: le 04/12 2022.
Receive our offers instantly on: