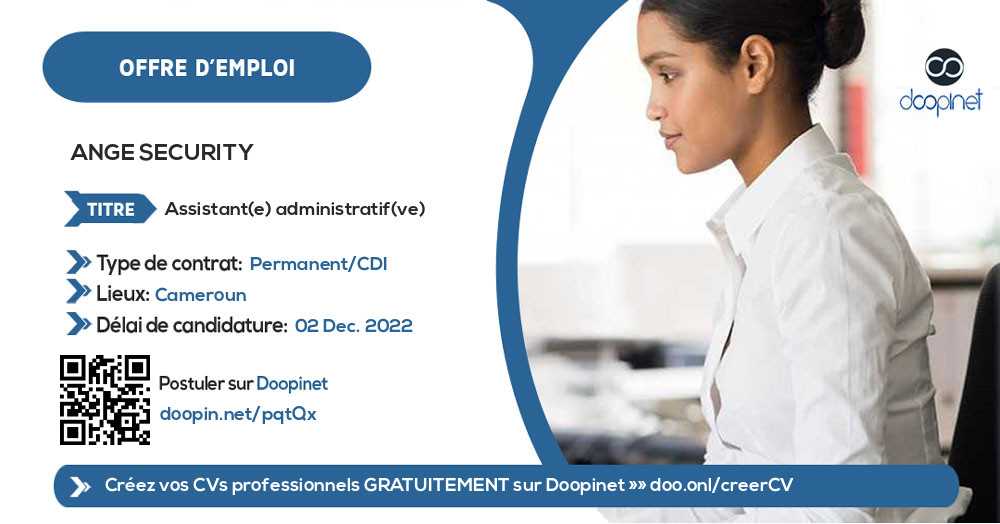 Assistant(e) administratif(ve) – Douala
LOGPOM, Douala, Littoral, Cameroon
·
02 Dec. 2022
·
Permanant
·
Secretary - Assistant
·
Administrative Assistant
Description
OFFRE D'EMPLOI: ASSISTANT(E) ADMINISTRATIF(VE)

Polyvalent(e)et rigoureux(se), l'assistant(e) administratif(ve)aura pour missions, sans que celles-ci soient exhaustives, d'assurer toutes tâches et opérations administratives sur instruction de la hiérarchie, et favoriser la circulation des informations entre les services pour le suivi efficient de l'activité.
Missions / Responsibilities / Activities
Administration/RH
- Accueil visiteurs, clients et fournisseurs
- Organise les déplacements professionnels en lien avec le responsable du matériel
- Gérer les courriers et courriels, les traiter tous les dossiers et les transmettre à qui-de-droit
- Effectue la clôture journalière de la caisse avec le Caissier principal
- Scanne tout document administratif pour l'inscrire dans les archives à l'attention du DAF
- Participe à tout projet lié aux RH
- Classe toutes les correspondances et courriers émis et entrants dans les classeurs prévus à cet effet
- Assure le relais du service des RH
- Tient à jour le registre des courriers
- Etablir et mettre à jour les dossiers du personnel
Services généraux et Opérations
- S'assure de l'installation correcte des nouveaux arrivants, collaborateurs et visiteurs
- Assure le suivi de la bonne circulation des courriers internes entre les services
- Est en relations avec les fournisseurs et partenaires de la société
- Participe aux inventaires de la société
- Participe aux recrutements des APS/APR et à la préparation de leurs formations internes
- Gere les stocks de fournitures de bureau et veille à leur distribution organisée
- Sert de relais de l'information de la direction vers les opérations
Job Requirements
Responsabilités & caractéristiques du poste

La responsabilité personnelle du titulaire du poste est engagée pour la distraction/divulgation des informations gérées

Points de contrôle par N+1 :
Organisation personnelle + qualité de la tenue des dossiers + organisation + collaboration Qualité et temps de traitement des dossiers et Collaboration avec les autres services
Moyens de travail :
matériel informatique + espace de travail + forfait téléphonique + Responsable de l'administration
Profil de l'occupant
Formation
- Niveau minimum : BTS secrétariat / gestion administration, ou BAC générale + expérience similaire et réussie de la fonction
Compétences
- Impératives : formation au traitement de texte et tableur, gestion de l'information
- Souhaitées : Esprit méticuleux, concentré et de contrôle
Exigences du poste
- Être rigoureux, ordonné, discret
- Être consciencieux organisé et minutieux
- Appliquer les procédures de l'entreprise
- Respecter les délais
Application Documents
» Lettre de motivation
» CNI
» Lettre de recommandation
» Curriculum Vitae

NOTE: SCAMMERS ARE MORE AND MORE SMART! Never send money to a stranger during a recruitment process for any reason! And If ever you should, please do so at your OWN RISK!
Appy Instructions
Vous êtes intéressé(e), POSTULEZ !

Cliquer sur le bouton Postuler pour envoyer votre candidature en ligne
Ou envoyez-nous vos documents de candidature à l'adresse email recrutement@ange-security.com
Ou déposez physiquement vos documents dans nos locaux à l'adresse carrefour Charles de Gaulle, Logpom, Douala, Littoral, Cameroon
Receive our offers instantly on: