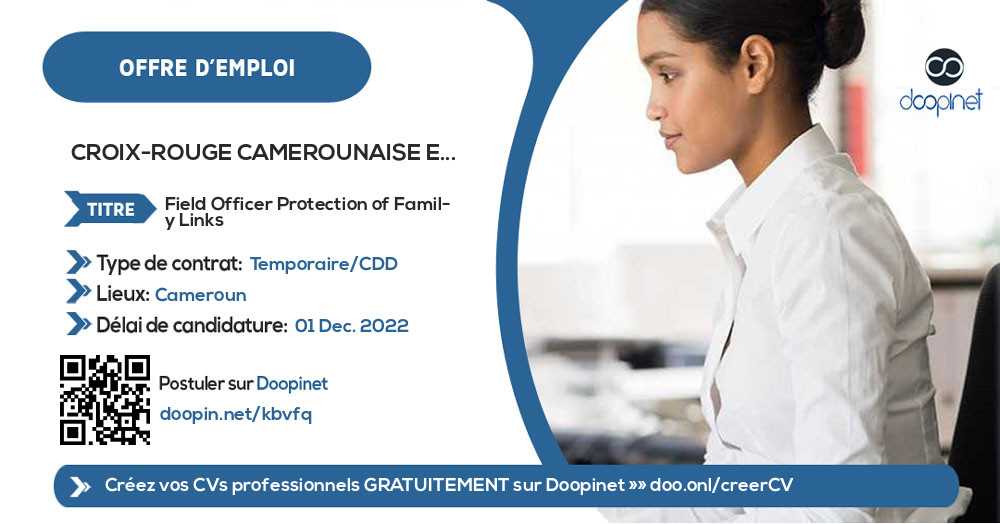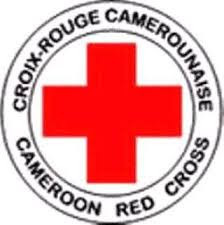 Field Officer Protection of Family Links – Yaoundé
Yaoundé, Centre, Cameroon
·
01 Dec. 2022
·
Temporary
·
Project Management
·
Project Manager
Description
La délégation du Comité international de la Croix-Rouge pour l'Afrique centraleà Yaoundé recherche pour ses services un (01)Field Officer Protection of Family Linksqualifié pour renforcer l'équipe du département Protection » suivant les indications ci-dessous :Poste basé :Maroua (région de l'extrême nord-Cameroun)
Type de contrat:CDD de 12 mois (offre réservée exclusivement aux ressortissants
Prise de fonction :Janvier 2023
Type de contrat:CDD de 12 mois (offre réservée exclusivement aux ressortissants


Missions / Responsibilities / Activities
Contribue à la compréhension des besoins de Protection of Family Links (PFL) de la sous-délégation et à l'élaboration des réponses appropriées;
Contribue à la planification des activités PFL de la sous-délégation;
Met en œuvre les activités PFL de la sous-délégation (interview avec les bénéficiaires, collecte des dossiers, insertion dans la base de données Prot 6, recherches sur le terrain, etc..), selon les procédures en vigueur
Assure et maintien la collaboration avec la Croix Rouge Camerounaise pour les activités PFL dans la zone de couverture de la sous-délégation;
Contribue à la mise en œuvre et au suivi des activités du programme d'accompagnement des familles de personnes disparues;
Contribue à la mise en œuvre de la réponse PFL en faveur des détenus et leurs familles :
Contribue à la consolidation des statistiques Protection de la sous-délégation:
Développe et maintien un réseau d'interlocuteurs pertinents sur place et sur le terrain (autorités militaires et civiles, acteurs armés non étatiques, société civile, ONG Protection ou DH, etc.) de son niveau
Contribue à la communication opérationnelle dans le cadre de ses activités;
Assiste le département Protection dans des différentes tâches de bureau et administratives, y inclus la rédaction des rapports et la traduction.
Job Requirements
Licence / Master 1 en Sociologie, Droit, Sciences sociales ou tout diplôme équivalent;
Deux ans d'expérience dans le domaine de la Protection ou domaines similaires;
Bonne connaissance d'au moins deux des langues locales suivantes: Kanuri, Fulfulde, Haoussa, Arabe Shoa;
Bonne expérience dans l'humanitaire avec de très bonnes qualités d'analyse et de reporting:
Bonne connaissance des outils informatiques (Word, Excel, Power Point, Outlook):
Bonne connaissance du contexte socio-culturel de l'Extrême-Nord:
Excellente connaissance du français et de l'anglais à l'oral comme à l'écrit:
Habilité à travailler de façon autonome et à communiquer régulièrement avec sa hiérarchie;
Capacité de travailler dans le respect des priorités opérationnelles et des procédures;
Capacité à manifester de l'empathie et le respect aux bénéficiaires, en particulier avec les personnes en situation de détresse ;
Capacité à travailler dans une équipe multiculturelle.
Applicant profile
» Experience Level: Medium
» Years of work experience: Between 2 year and 3 years
» Minimum Education Level: Master's Degree

Application Documents
» Lettre de motivation
» Curriculum Vitae

NOTE: SCAMMERS ARE MORE AND MORE SMART! Never send money to a stranger during a recruitment process for any reason! And If ever you should, please do so at your OWN RISK!
Appy Instructions
Les candidats intéressés devront faire parvenir un CV à jour ainsi qu'une lettre de motivation au format PDF à l'adresse : yao_recrutement_services@icrc.org avec le titre du poste à l'objet .

Le CICR valorise la diversité et s'engage à créer un environnement de travail inclusif. Nous accueillons les candidatures de toutes les personnes qualifiées.


NB: Tout le processus de recrutement au CICR est libre et gratuit. Seul le Département RH, (yao recrutement services@icrc.org) est habilité à fournir des informations ou des résultats sur ce processus.

Délai: le 01 Décembre 2022 à 17h00 (heure du Cameroun)
Receive our offers instantly on: