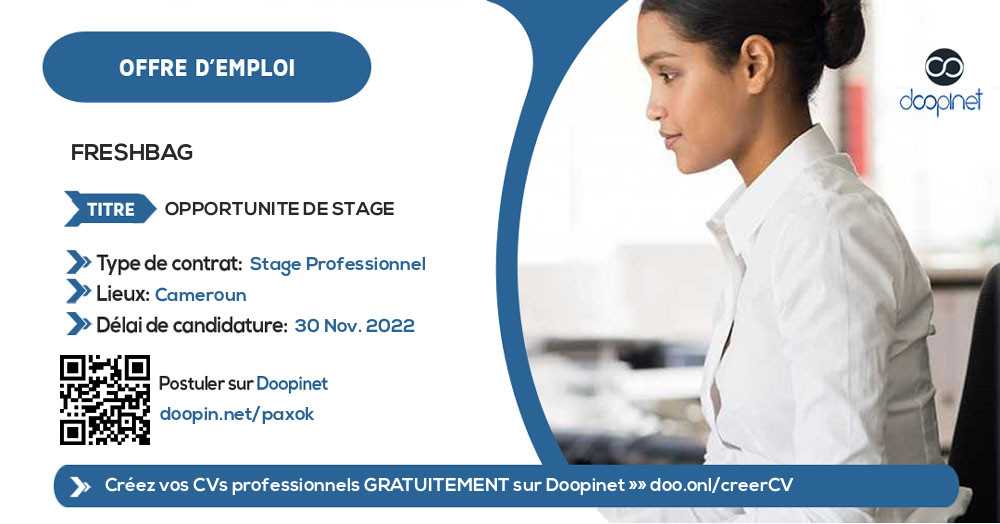 OPPORTUNITE DE STAGE – Yaoundé
Yaoundé, Centre, Cameroon
·
30 Nov. 2022
·
Internship
·
Communication
·
Communication assistant
Description
One Woman Business est une Association franco-suisse à but non lucratif de droit camerounais avec la mission de lutter contre la pauvreté et le chômage des femmes au Cameroun. Afin d'assurer le développement de ses activités dans la ville de Yaoundé, recrute des stagiaires professionnels en communication traditionnelle et digitale.
Durée du stage :
Le stage aura une durée de 3 mois renouvelable avec possibilité d'emploi CDD si concluant.

Missions / Responsibilities / Activities
Sous la supervision du coordonnateur de l'association, le stagiaire devra contribuer à
Piloter des actions de communication :
Concevoir et implémenter un planning de publication ;
Animer les différentes plateformes de communication de l´association :
Préparer les contenus de publications sur la base des actions menées par Good People;
Rédiger des rapports mensuels de communication.
Job Requirements
Être titulaire d´au moins un BTS ou d´une licence en communication/marketing, publicité des entreprises ou tout autre diplôme équivalent ;
Des compétences supplémentaires en Community management seraient un atout :
Avoir l´aptitude d´intégrer une équipe de travail multidisciplinaire dans un environnement multiculturel;
Être disponible durant toute la durée du stage ;
Avoir une bonne maîtrise de l´outil informatique (Word, PowerPoint, Publisher, adobe Illustrator, Photoshop) ainsi que d´autres logiciels de communication :
Avoir une certaine connaissance des logiciels de montages et de traitement d´images, vidéos etc. Des compétences en prise de vue seraient un atout;
Avoir une bonne expression orale et écrite française (orthographe soignée et correcte), la maîtrise de l´anglais serait un atout :
Être motivé(e), rigoureux (se), et organisé(e);
Posséder des aptitudes rédactionnelles importantes
Posséder des aptitudes d´art oratoire (de prise de parole en public)
Avoir des connaissances en matière de techniques liées à la communication digitale et traditionnelle
Être capable de travailler efficacement en équipe et sous pression
Applicant profile
» Experience Level: Intern
» Minimum Education Level: Associate's Degree

Application Documents
» Lettre de motivation
» Curriculum Vitae

NOTE: SCAMMERS ARE MORE AND MORE SMART! Never send money to a stranger during a recruitment process for any reason! And If ever you should, please do so at your OWN RISK!
Appy Instructions
Cliquer sur le bouton Postuler pour envoyer votre candidature en ligne
Ou envoyez-nous vos documents de candidature à l'adresse email dev.agtx@gmail.com
Ou par WhatsApp au : 680027705
Documents

Lettre de motivation adressée à la Présidente de One Woman Business (OWB) :
CV
Date limite de dépôt des candidatures le 30 Novembre 2022

Microsoft Publisher Illustrator Photoshop Microsoft Word Microsoft PowerPoint
Receive our offers instantly on: