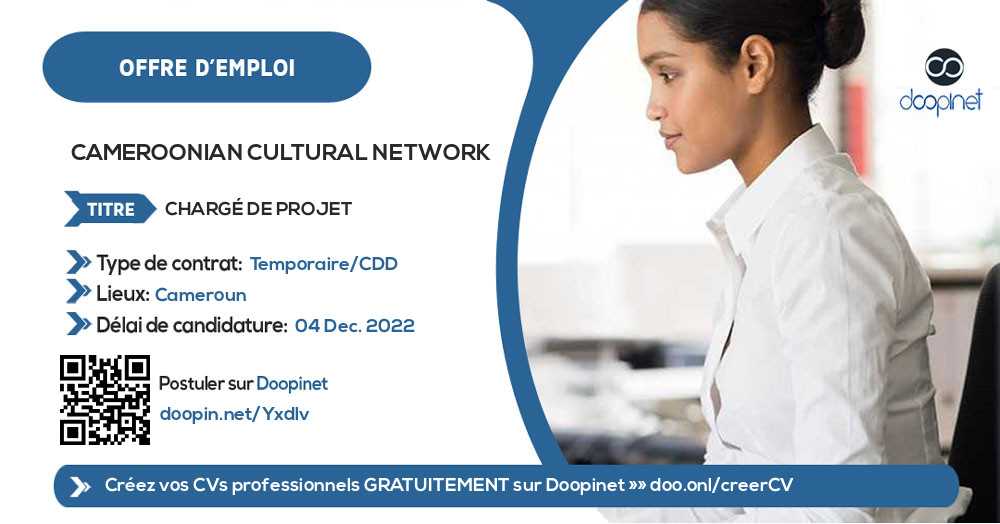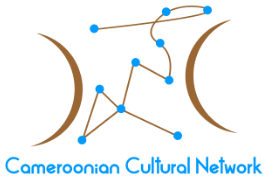 CHARGÉ DE PROJET – Yaoundé
Yaoundé, Centre, Cameroon
·
04 Dec. 2022
·
Temporary
·
Project Management
·
Project Manager
Description
L'ensemble des initiateurs du projet « Cameroonian Cultural Network » cherche une chargée/un chargé de projet disponible du 01 janvier 2023 au 31 décembre 2023.

Le projet :Cameroonian Cultural Network ( CCN)

Le projet rassemble les parties prenantes européennes et locales pour développer une plateforme numérique et physique afin d'établir un réseau solide au Cameroun pour les artistes, de faire tourner des productions artistiques et de proposer un programme de renforcement des capacités pour les infrastructures/espaces culturels associés.
Cameroonian Cultural Network est un projet de : CIPCA, CLAC, Délégation Européenne au Cameroun, Goethe-Institut, Institut Français Cameroun, Kiki Entertainement OTHNILaboratoire de Théâtre de Yaoundé. Ce projet est financé par le « Programme ACP-UE
Culture – Créer en Afrique Centrale »
Missions / Responsibilities / Activities
• Implémentation du projet sous la direction du comité de coordination du projet / Board (CIPCA, CLAC, Délégation Européenne au Cameroun, Goethe-Institut, Institut Français Cameroun, Kiki Entertainment & OTHNI-Laboratoire de Théâtre de Yaoundé)
• Coordination, organisation et réalisation du projet, notamment : processus de la sélection des partenaires, préparation et organisation des formations, assistance à l'organisation des tournées, développement des plateformes numériques et réseaux sociaux, supervision des communities managers, communication avec les partenaires du projet, et toutes autres activités en relation avec la bonne marche du projet.
• Coordination et implémentation de la communication interne et externe
• Coordination de la collaboration avec les prestataires de services externes (maquettistes, imprimeurs, photographes, entrée CMS, etc.)
• Assistance à l'administration pour : Le management budgétaire, l'établissement des contrats avec les artistes, les espaces culturels associés et les prestataires, le suivi du budget, de la comptabilité, la rédaction des différents rapports techniques et financiers.
• Développement et réalisation des outils d'évaluation et monitoring accompagnant et rédaction d'un rapport d'évaluation
• Rédaction du rapport d'évaluation du projet.
Job Requirements
• Avoir terminé des études universitaires (Licence/Master) en management culturel ou médiation culturelle/ Ingénierie culturelle ou une autre filière en lien avec ce domaine.
• Avoir une expérience en management de projets dans différents domaines
• Avoir de très bonnes connaissances en Français et en Anglais
• Avoir des connaissances en informatique (MS-Teams, Excel, Word, PowerPoint etc.)
• Être capable de travailler de façon autonome
• Être capable de travailler en télétravail
• Avoir de très bonnes compétences en management, coordination et communication
• Avoir de très bonnes compétences interculturelles et sociales
• Avoir une grande flexibilité et être capable de supporter de lourdes charges de travail
• La connaissance de l'environnement artistique camerounais est un atout.
Applicant profile
» Experience Level: Medium
» Minimum Education Level: Bachelor's Degree

Application Documents
» Lettre de motivation
» Certificats
» Curriculum Vitae & références

NOTE: SCAMMERS ARE MORE AND MORE SMART! Never send money to a stranger during a recruitment process for any reason! And If ever you should, please do so at your OWN RISK!
Appy Instructions
Cliquer sur le bouton Postuler pour envoyer votre candidature en ligne
Ou envoyez votre dossier de candidature (CV, lettre de motivation, certificats, références) avec l'objet « Chargé(e) projet CCN 2023 » en Français ou en Anglais jusqu'au 04 décembre 2022 à l'adresse suivante : rhclac@leclac.org
Les entretiens auront lieu entre 14 et le 16 décembre 2022 à Yaoundé.
Microsoft Teams Microsoft Word Microsoft PowerPoint Microsoft Excel
Receive our offers instantly on: