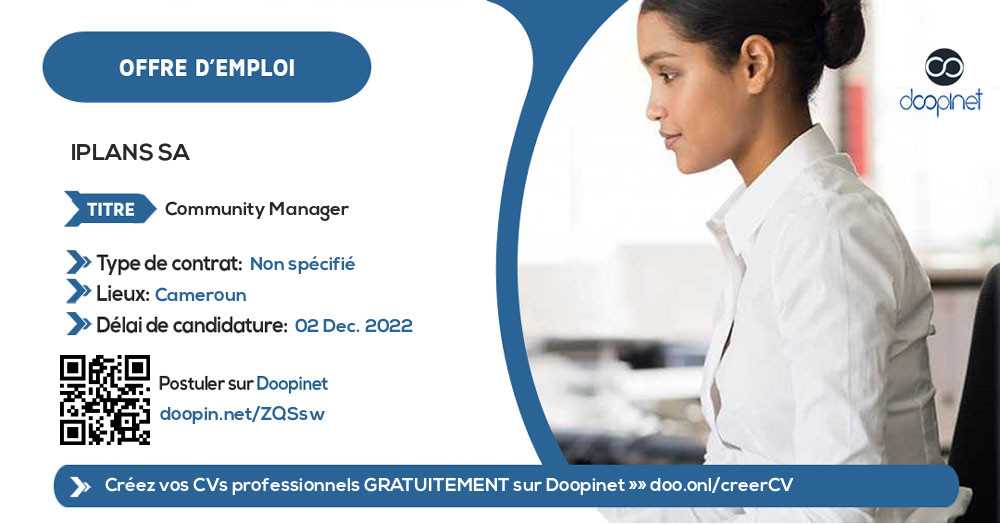 Community Manager – Cameroun
Lieu, Non spécifié, Cameroon
·
02 Dec. 2022
·
Unspecified
·
Internet - Web
·
Community Manager
Description
IPLANS SArecherche activement 01Community Manager
Missions / Responsibilities / Activities
Assister la hiérarchie dans l'élaboration des stratégies marketing et commercial en ligne
Veille concurrentielle, commercial, d'e-réputation
Production de contenus (éditorial, photo, vidéo, son)
Animation des différentes communautés : Planification des publications (contenus), Jeux concours, Infos, Promotions, interaction avec ses membres (réponses aux questions, création d'échanges)
Augmenter la présence digitale et accroître la visibilité de la société sur le web
Relayer toutes les offres promotionnelles et toutes les activités sur les plateformes digitales
Suivre les statistiques en analysant les performances et l'engagement des internautes
Produire régulièrement les rapports d'activités
Modérer les différentes pages des réseaux sociaux (ex : Commentaires, Tweets, Messages privés, publicité sociale media) afin de créer de l'engagement,
Une veille sur son secteur d'activité, prenant en compte les tendances du marketing digital et l'étude de la concurrence
Participer au développement du chiffre d'affaires de l'entreprise
Création, suivi et optimisation des campagnes publicitaires et promotionnelles via les réseaux sociaux (Facebook, Instagram, YouTube, LinkedIn)
Gestion des campagnes de référencement payant (SEA) sur Google et les réseaux sociaux, Webmastering
Participation à l'élaboration d'une campagne sociale media
Job Requirements
Pouvoir travailler sous pression
Être parfaitement bilingue
Bac+3 minimum en Marketing digital ou toute formation équivalente
Minimum 3 ans d'expérience au poste de Community manager
Maîtrise parfaite de l'outil informatique et des réseaux sociaux
Être de bonne moralité
COMPETENCES REQUISES
Posséder des aptitudes rédactionnelles importantes
Posséder des aptitudes d'art oratoire (de prise de parole en public)
Avoir des connaissances en matière de techniques liées à la communication digitale et/traditionnelle
Savoir utiliser les logiciels tels que Photoshop et Publisher serait un atout
Maitrise des outils webmarketing (GOOGLE Analytics, GOOGLE Adwords etc…)
Bonne maitrise des techniques de négociation et de vente
Applicant profile
» Experience Level: Medium
» Years of work experience: Between 3 years and 5 years
» Minimum Education Level: Bachelor's Degree

Application Documents
» Lettre de motivation
» Curriculum Vitae

NOTE: SCAMMERS ARE MORE AND MORE SMART! Never send money to a stranger during a recruitment process for any reason! And If ever you should, please do so at your OWN RISK!
Appy Instructions
Cliquer sur le bouton Postuler pour envoyer votre candidature en ligne
Ou tous les candidats doivent envoyer leur CV et lettre de motivation à l'adresse suivante : j.nanmeny@iplans.cm avec en objet l'intitulé du poste voulu.
DÉLAIS DE RECEVABILITÉ DES CANDIDATURES : Le 02 Décembre 2022 à 12H

Microsoft Publisher Google Adwords Google Analytics Photoshop
Receive our offers instantly on: