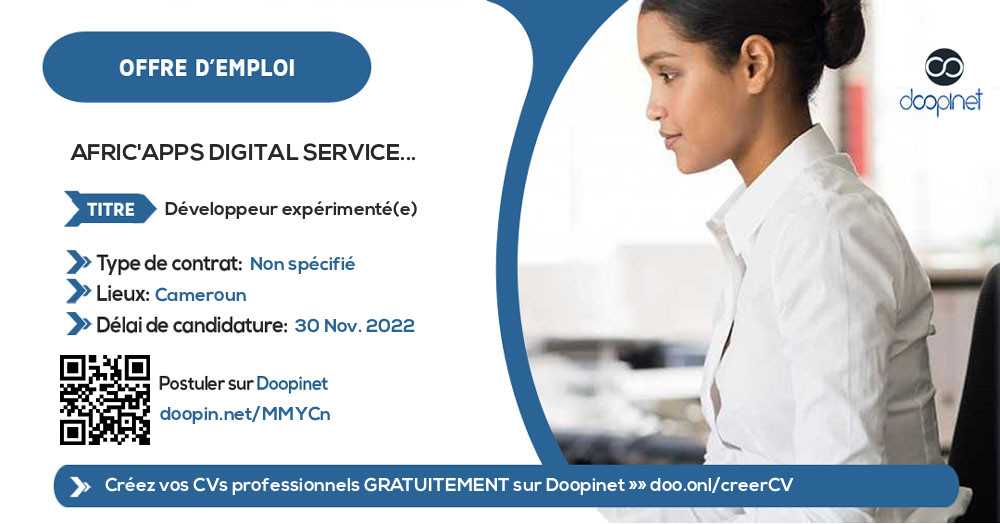 Développeur expérimenté(e) – Yaoundé
Yaoundé, Centre, Cameroon
·
30 Nov. 2022
·
Unspecified
·
IT - Electronics - Digital
·
Developer
Description
Dans le cadre du développement de ses activités,
Afric'Apps Digital Services Sarl
recrute un(e) :
Développeur
expérimenté(e) dans les technologies Flutter, Angular JS, WEB, Android et IOS.
Au sein d'une équipe de 8 personnes jeunes et passionnées dont des Développeurs, des analystes, un Chef de projet, vous serez amené(e) à travailler en mode Agile principalement sur notre projet « EvalTech » (plateforme éducative pour une assistance scolaire multiforme aux apprenants du secondaire, inscrits ou pas dans un établissement scolaire).

Autonome mais sachant travailler en équipe, efficace et avec un raisonnement structuré, vous êtes Diplômé(e) d'une école d'Ingénieur ou non, et justifiez au minimum de 1 ans d'expérience sur Flutter/Dart.
Votre passion pour les nouvelles technologies et votre envie de faire des applications utiles et abouties vous permettent de contribuer aux évolutions de nos solutions et d'avoir un œil critique permettant de faire avancer l'ensemble de la société.
Nous vous offrons un cadre de travail idéal, ainsi qu'une grande ouverture d'esprit pour laisser place à la créativité et aux solutions innovantes.

Lieu :
Yaoundé
Missions / Responsibilities / Activities
Développement des fonctionnalités souhaitées
Tests
Validations
Echanges autour des axes d'amélioration
Assurer la bonne conduite des projets et des deadlines
Rédiger la documentation technique
Mettre les bonnes pratiques en matière de développement et sécurité (OWASP).
Job Requirements
FLUTTER en Dart
Tests unitaires
Web Dev / applications mobiles (natif)
Angular JS
La connaissance de UX/UI, des bases solides en algorithmique et résolution de problèmes complexes et l'intelligence artificielle sont un plus.
Qualités : curiosité, pragmatisme, rigueur, adaptation, esprit d'équipe et force de proposition.
Application Documents
» Lettre de motivation
» Curriculum Vitae

NOTE: SCAMMERS ARE MORE AND MORE SMART! Never send money to a stranger during a recruitment process for any reason! And If ever you should, please do so at your OWN RISK!
Appy Instructions
Vous remplissez ces critères et êtes intéressés ?
Cliquer sur le bouton Postuler pour envoyer votre candidature en ligne
Ou alors faites nous parvenir votre CV, lettre de motivation et dernier diplôme à contact@africappsdigital.com
Délai: le 30/11/2022.
UI/UX Angular JS Flutter
Receive our offers instantly on: