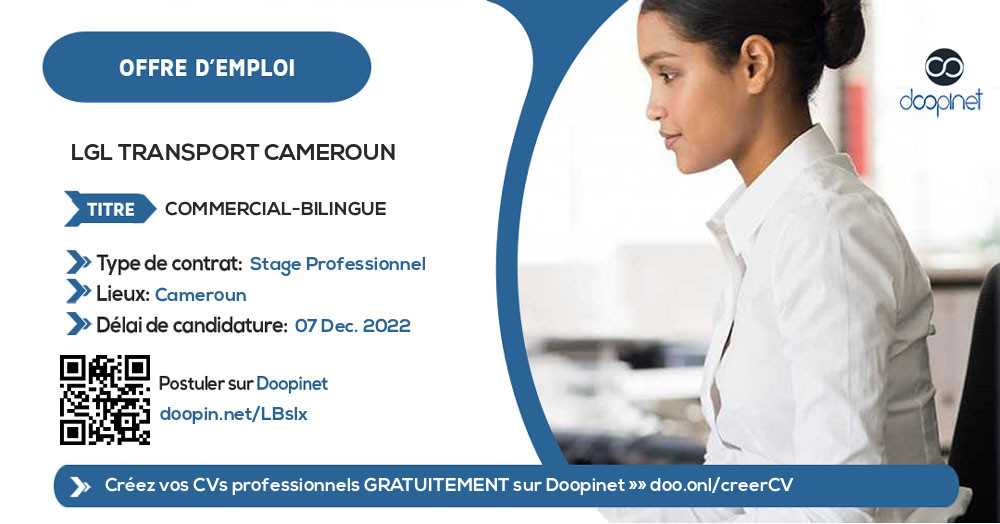 COMMERCIAL-BILINGUE – Douala - Cameroun
Douala - Cameroun, Littoral, Cameroon
·
07 Dec. 2022
·
Internship
·
Trade - Sale - Distribution
·
Sales Representative
Description
APPEL A CANDIDATURE

POSTE PROPOSÉ : Commercial(e) Bilingue dans le transport

Nous recrutons un(e)commercial(e) bilingue au sein de la société LGL Transport Cameroun pour l'Agence de DOUALA.

· Durée hebdomadaire de travail : 40 h ;

· Lieu de travail : Douala – Cameroun ;

· Secteur d'activité : Transport de marchandises.
Missions / Responsibilities / Activities
Vous êtes chargé d'impulser la politique commerciale et marketing de l'entreprise, d'être une force de proposition, et de gérer toutes les activités commerciales de l'entreprise.

Plus précisément :

· De gérer les échanges commerciaux téléphoniques avec la clientèle B2B ;

· De développer et de fidéliser le portefeuille client existant ;

· De prospecter et d'ouvrir les comptes des nouveaux clients ;

· De garantir le suivi commercial et administratif des dossiers clients ;

· De contrôler et manager toute la politique de vente au sein des équipes d'affréteurs ;

· De suivre en permanence l'évolution des tarifs du secteur, négocier les tarifs achats ;

· D'organiser les transports, en suivre et en contrôler la bonne exécution et renseigner les éléments de suivi dans la base de données interne ;

· De fournir différents rapports d'activités journaliers, hebdomadaires, mensuels et annuels;

· De satisfaire à toutes les tâches administratives s'afférant au poste. Vous gardez à l'esprit en permanence la satisfaction de nos clients.
Job Requirements
· Expérience 3 à 5 ans à un poste similaire;

· Bilingue : français – anglais

· Formation : Bac+3 à Bac+5 en Anglais exigé ;
· Maîtrise de la géographie européenne ;

· Maîtrise du Pack Office ;

· Qualification : Employé qualifié ;

· Très à l'aise dans la prospection commerciale par téléphone et par mail, vous êtes rigoureux(se), organisé(e), polyvalent(e), convaincant(e) et avez un bon relationnel. Par ailleurs, vous savez travailler de façon autonome, réactive et avez le goût du challenge. Vous devez être capable de vous intégrer rapidement à une équipe de travail
Applicant profile
» Experience Level: Medium
» Years of work experience: Between 3 years and 5 years
» Minimum Education Level: Bachelor's Degree

Application Documents
» Lettre de motivation
» Curriculum Vitae

NOTE: SCAMMERS ARE MORE AND MORE SMART! Never send money to a stranger during a recruitment process for any reason! And If ever you should, please do so at your OWN RISK!
Appy Instructions
Cliquer sur le bouton Postuler pour envoyer votre candidature en ligne
Ou envoyez un CV et une lettre de motivation à : humanressources@lgltransport.com au plus tard le 07 Décembre 2022.
Microsoft OFFICE
Receive our offers instantly on: