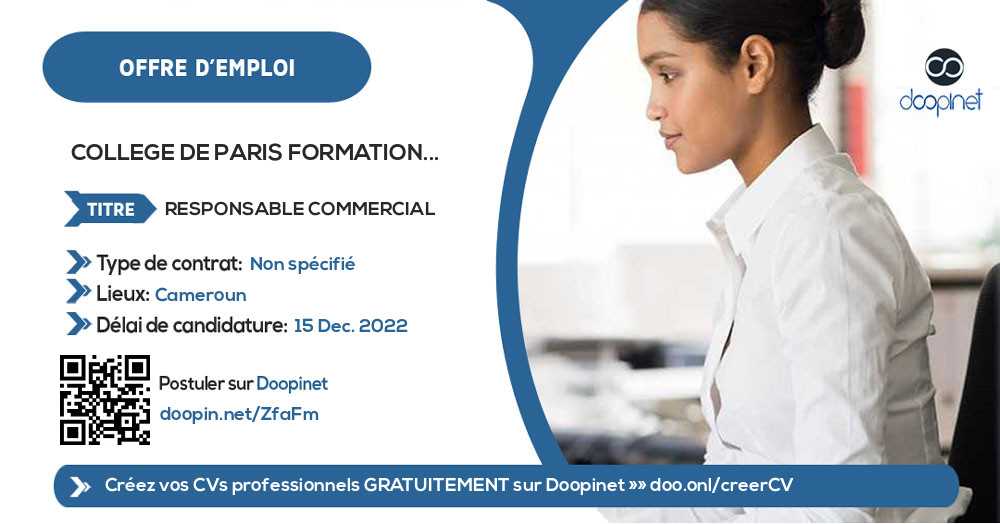 RESPONSABLE COMMERCIAL – Yaoundé, Douala
Yaoundé, Douala
·
15 Dec. 2022
·
Unspecified
·
Trade - Sale - Distribution
·
Sales manager
Description
OFFRE D'EMPLOI: RESPONSABLE COMMERCIAL
Réf de l'offre : RC-CDP22
Une institution académique Française basée au Cameroun recherche pour besoin de services :
Un(e) Responsable Commercial, poste basé à Douala et Yaoundé.
Missions / Responsibilities / Activities
Il aura pour missions principales de :
- Définir la stratégie commerciale de son pôle ;
- Mettre en œuvre les actions commerciales et marketing de terrain spécifiques
- Coordonner et animer les activités de l'équipe commerciale ;
- Agir pour acquérir de nouveaux clients et gérer les relations clients (nouvelles et existantes)
Les taches consisteront à :
- Définir les plan d'action hebdomadaire en lien avec la stratégie commerciale ;
- Organiser et faire le suivi des actions de prospection ;
- Encadrer les staffs;
- Participer aux réunions hebdomadaires des activités de coordination générale;
- Rédiger les rapports journaliers de l'équipe commerciale.
- Développer et mettre en œuvre des stratégies commerciales en fonction des buts et objectifs de la société visant à accélérer la croissance
Job Requirements
• Bac +3 minimum en action commerciale, marketing ou toute autre formation connexe ;
• Expérience de (05) ans minimum dans la mise en œuvre et l'exécution d'une stratégie commerciale ;
• Une bonne connaissance dans la vente de services serait un atout ;
• Maitrise de l'outil informatique (Pack Office) ;
• Être social(e) avec de bonnes qualités relationnelles ;
• Maitriser le bon langage adapté à la négociation ;
• Être capable de s'adapter à l'éthique et aux valeurs de l'entreprise.

Applicant profile
» Experience Level: Medium
» Years of work experience: Between 5 years and 8 years
» Minimum Education Level: Bachelor's Degree

Application Documents
» Curriculum Vitae

NOTE: SCAMMERS ARE MORE AND MORE SMART! Never send money to a stranger during a recruitment process for any reason! And If ever you should, please do so at your OWN RISK!
Appy Instructions
Si vous souhaitez faire partie d'une institution où l'on valorise la performance dans une ambiance conviviale,
Cliquer sur le bouton Postuler pour envoyer votre candidature en ligne
Ou envoyez-nous vos documents de candidature à l'adresse email carriere@parisformations.fr

Deadline : 15 Décembre 2022 à 17h30

Merci de préciser en objet de votre mail et selon votre ville de résidence :
RC-CDP22 Yaoundé OU RC-CDP22 Douala
Microsoft OFFICE
Receive our offers instantly on: