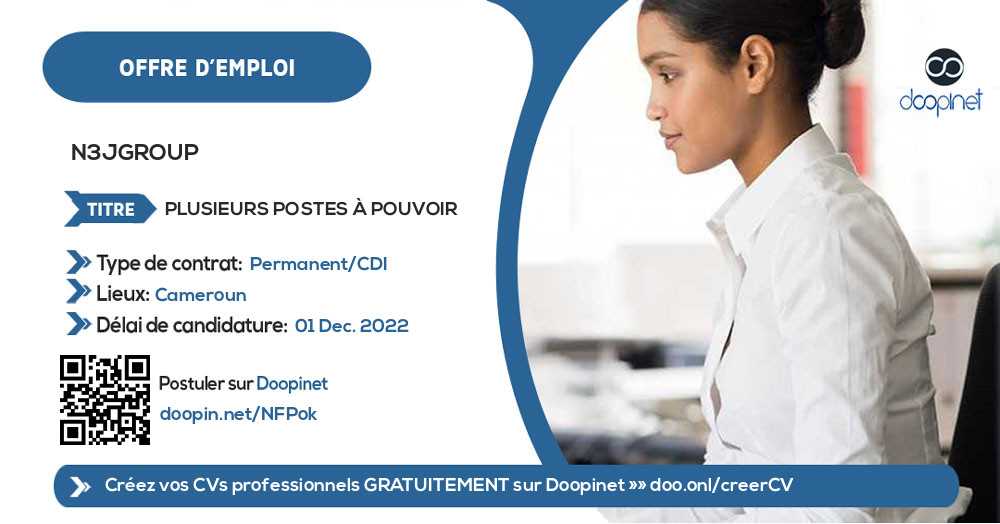 PLUSIEURS POSTES À POUVOIR – Douala
Akwa, Douala, Littoral, Cameroon
·
01 Dec. 2022
·
Permanant
·
Accounting - Management
·
Accountant
Description
N3jgroup Recrute Mois de Decembre .
-03 comptables pouvant tenir la comptabilité sur version i7 + montage Dsf et Business Plan
-03Programmeurs d'interfaces Homme Machine avec Ms studio :VB et VC ; +Database SQL server ; Oracle
-03 Web designer (Applictaions web tests avec Demo .. )
-03 Electriciens maitrise de Xrelais
-03 Techniciens en Genie Civil maitrise des outils AutoCAD ;Robot
-02 Concepteur BIM……
-02 Conseiller Juridique
-10 Manœuvres Qualifies
-10 Manœuvres Non qualifies
-03 Techniciens agricoles ( Gritz de mais soja )
-03 Techniciens en élevage volaille et porcs (maitrisant l'insémination )
-01Gerant d institut de Beauté
-03 Technicien maitrisant soins et coiffures homme femmes et enfants
MENTIONNEZ LE POSTE POUR LEQUEL VOS POSTULEZ!

Job Requirements
Les comptables doivent avoir une expertise de 5 ans minimum et être capable de monter la DSF Pour les comptables

Application Documents
» Plan de localisation
» Curriculum Vitae

NOTE: SCAMMERS ARE MORE AND MORE SMART! Never send money to a stranger during a recruitment process for any reason! And If ever you should, please do so at your OWN RISK!
Appy Instructions
MENTIONNEZ LE POSTE POUR LEQUEL VOS POSTULEZ!

Cliquer sur le bouton Postuler pour envoyer votre candidature en ligne
Ou Faites nous parvenir votre CV et plan de localisation aux adresses: infos@n3jgroup.com , gt_sarl@n3jgroup.com
Date limite :30-11-2022

Receive our offers instantly on: