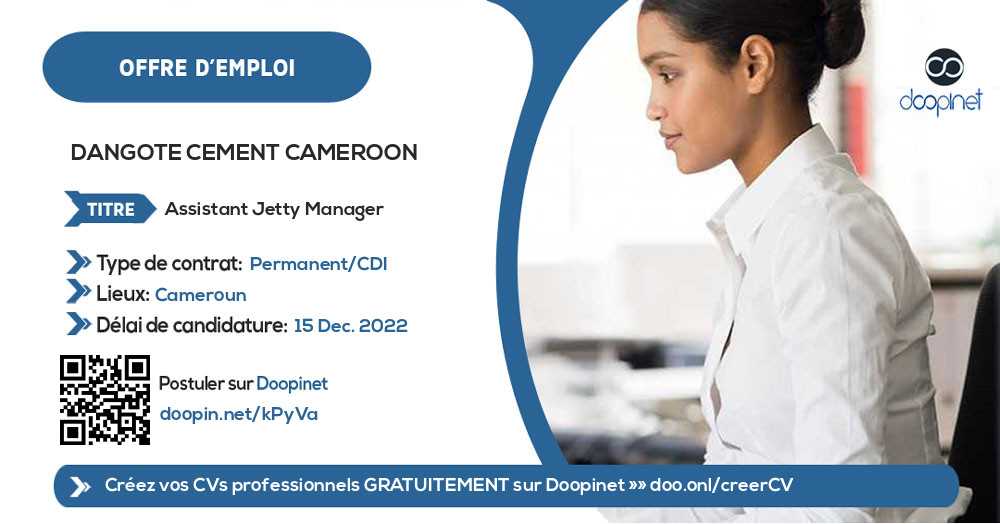 Assistant Jetty Manager – Douala - Cameroun
Douala - Cameroun, Littoral, Cameroon
·
15 Dec. 2022
·
Permanant
·
Transport - Logistic
·
Assistant logistique
Description
Dangoteest à la recherche d'unAssistant Jetty Manager
Douala, Littoral, Cameroun

Missions / Responsibilities / Activities
Participer à la planification, à la conduite et à la surveillance de toutes les activités d'exploitation et de maintenance concernant la manutention sûre, efficace et rentable des navires.
Agit comme point focal pour tous les problèmes d'arrimage qui peuvent survenir avec le navire assigné.
Coordonnez l'accostage du navire pour un démarrage rapide du déchargement.
Au besoin, interagit avec les entreprises de camionnage pour faciliter la livraison en temps opportun.
Tâches et responsabilités clés
1. Superviser les activités de répartition des navires pour assurer une exécution précise et en temps opportun.
2. Assurer la disponibilité et la maintenance des équipements.
3. Superviser directement les opérations pour s'assurer que le travail est effectué conformément aux procédures.
4. Formation des opérateurs pour un travail efficace et sécuritaire.
5. Mettre en œuvre les politiques et procédures HSE approuvées.
6. Assurer la liaison avec toutes les parties prenantes du port pour maintenir des opérations efficaces.
7. Exécuter toute autre tâche assignée par le gestionnaire de la jetée.
Job Requirements
Éducation et expérience de travail
Baccalauréat avec une formation en marine, en logistique ou en transport de préférence
Cinq (5) années d'expérience de travail pertinente, dont au moins trois (3) dans un rôle de supervision.
L'expérience des terminaux maritimes est un atout.

Aptitudes et compétences
Connaissance approfondie de l'industrie cimentière (locale et internationale).
Connaissance approfondie des meilleures pratiques en logistique, en particulier dans les opérations maritimes et portuaires.
Connaissance approfondie des politiques HSE approuvées par l'entreprise.
Solides compétences en communication orale et écrite (français et anglais).
Bon sens de l'organisation et de la gestion de projet.
Bonnes compétences en leadership et en gestion des relations.
Solides compétences en résolution de problèmes, avec capacité à prendre des initiatives et à agir de manière proactive.
Connaissance pratique de la suite Microsoft Office, une expérience des systèmes d'exploitation de terminaux est un plus.
Your Perks
formation et DEVELOPPEMENT
Applicant profile
» Years of work experience: Between 5 years and 8 years
» Minimum Education Level: High School Diploma

NOTE: SCAMMERS ARE MORE AND MORE SMART! Never send money to a stranger during a recruitment process for any reason! And If ever you should, please do so at your OWN RISK!
Appy Instructions
Veuillez cliquer sur le bouton Postuler ci-dessous pour soumettre votre candidature
Receive our offers instantly on: