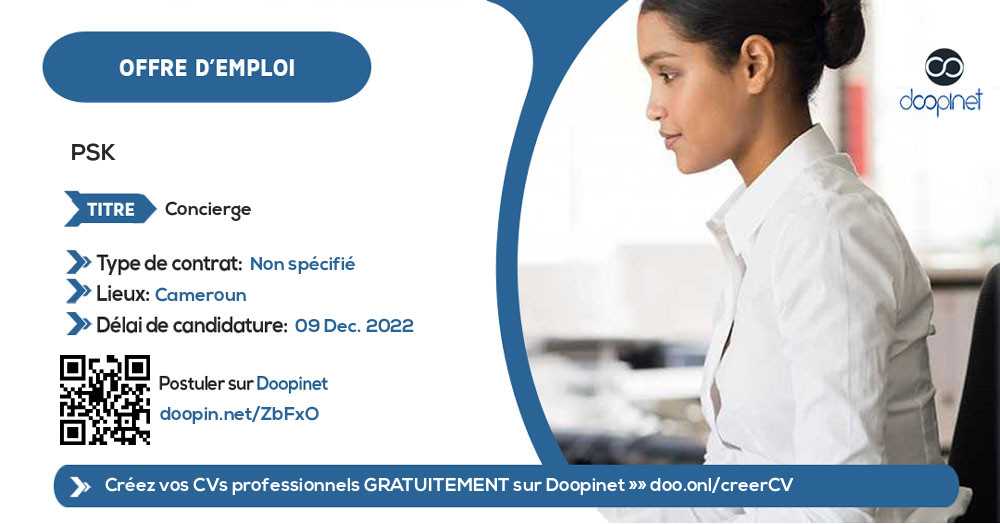 Concierge – Yaoundé
Yaoundé, Centre, Cameroon
·
09 Dec. 2022
·
Unspecified
·
Hotel - Catering
·
Concierge
Description
PSK CAMEROUN recrute, pour l'un de ses clients : Un (01) concierge
PSK est une entreprise de services spécialisée dans la mise à disposition du personnel, les formations, le recrutement et la conciergerie d'entreprise. Pour les besoins d'un de nos clients qui souhaite agrandir son équipe, à la suite du développement de ses activités au Cameroun nous recrutons un « concierge ».
Poste basé à Yaounde
Missions / Responsibilities / Activities
Ce poste est ouvert aux candidats qui possèdent toutes les qualités essentielles, remplissant les conditions d'emploi et dont les candidatures sont reçues à la date de clôture.
Qualités essentielles :

Veiller à l'ouverture et à la fermeture des portes, à l'information des visiteurs, à la réception et à la distribution du courrier dans les boîtes individuelles
Job Requirements
Excellente connaissance du français et de l'anglais professionnel serait un atout considérable Expérience :
Minimum 3 ans d'expérience pertinente dans le service à la clientèle et l'appui administratif, l'appui logistique, et la gestion de l'information.
Connaissance :

Connaissance de Microsoft Office (Word, Excel, Powerpoint)

Connaissance des procédures courantes dans un bureau

Compétences :
Capacité de communiquer

Excellentes qualités interpersonnelles et service à la clientèle

Bon Jugement

Capacité supérieure d'organisation et gestion du temps

Attention aux détails

Adaptabilité et flexibilité (flexible et capable de s'adapter aux changements de priorités et à une variété de tâches
Applicant profile
» Experience Level: Medium
» Years of work experience: Between 3 years and 5 years

Application Documents
» Lettre de motivation
» Curriculum Vitae

NOTE: SCAMMERS ARE MORE AND MORE SMART! Never send money to a stranger during a recruitment process for any reason! And If ever you should, please do so at your OWN RISK!
Appy Instructions
Les candidats doivent envoyer leur candidature à psk.cameroun@pskgroupe.com avant la date limite en précisant en objet «Concierge : Prénom nom (numéro de l'offre) ».
Date et heure de clôture : 10 décembre 2022 à 17 heures

Seuls les candidats présélectionnés seront contactés.
Notes importantes :

Les candidats sélectionnés à l'étape de la présélection seront invités à participer aux étapes suivantes d'évaluation. Ces méthodes d'évaluation peuvent inclure, et ne sont pas limitées à : examens écrits, entrevues, mises en situation, examens pratiques, présentations et/ou examens psychométriques.

Les communications pour ce processus seront envoyées par courriel ou téléphone. Il incombe au candidat de s'assurer que les coordonnées fournies sont correctes, y compris une adresse courriel qui accepte les messages provenant d'utilisateurs inconnus (certains systèmes de messagerie bloquent ces types de courriels).

Une vérification des références fournies sera faite pour les candidats qui atteignent le stade de l'entrevue et fait partie du processus de sélection.
Receive our offers instantly on: