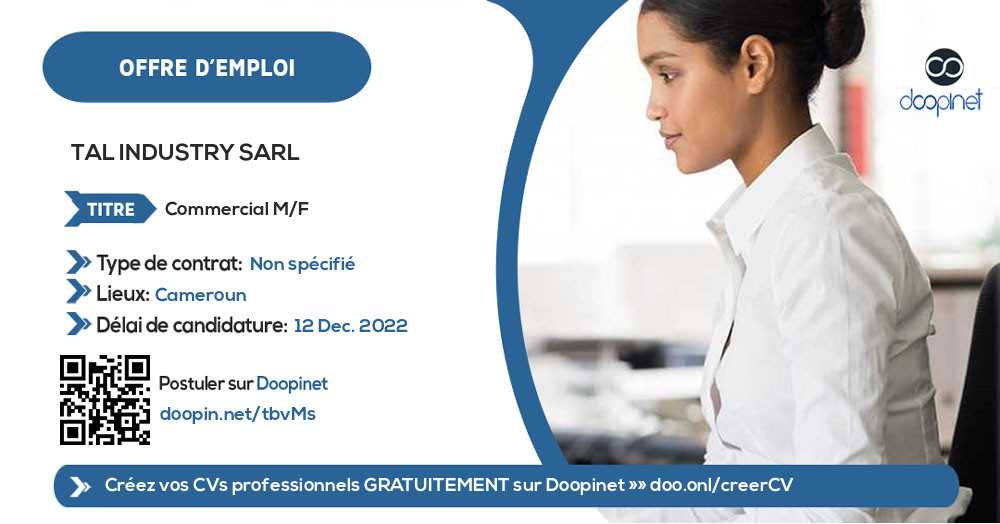 Commercial M/F – Yaoundé
Yaoundé, Centre, Cameroon
·
12 Dec. 2022
·
Unspecified
·
Trade - Sale - Distribution
·
Sales Representative
Description
The Company Tal Industry Sarl located at a place called Camp Sonel Ahala is looking for its needs for commercial M / F
Job Requirements
* Aged between 22-30 years for a prospecting campaign in the city of Yaoundé
* Have a bachelor's degree in action
* Sales/marketing. Have a good physical presentation.
* Be smiling Have an experience of at least 6 months.
Applicant profile
» 22 - 30 years old
» Years of work experience: Below 1 year
» Minimum Education Level: Bachelor's Degree

Application Documents
» full photo
» Curriculum Vitae

NOTE: SCAMMERS ARE MORE AND MORE SMART! Never send money to a stranger during a recruitment process for any reason! And If ever you should, please do so at your OWN RISK!
Appy Instructions
Please send us your cv and full photo to the email address contact@talsarl.com, or by WhatsApp at 682444304/655866427.
Receive our offers instantly on: