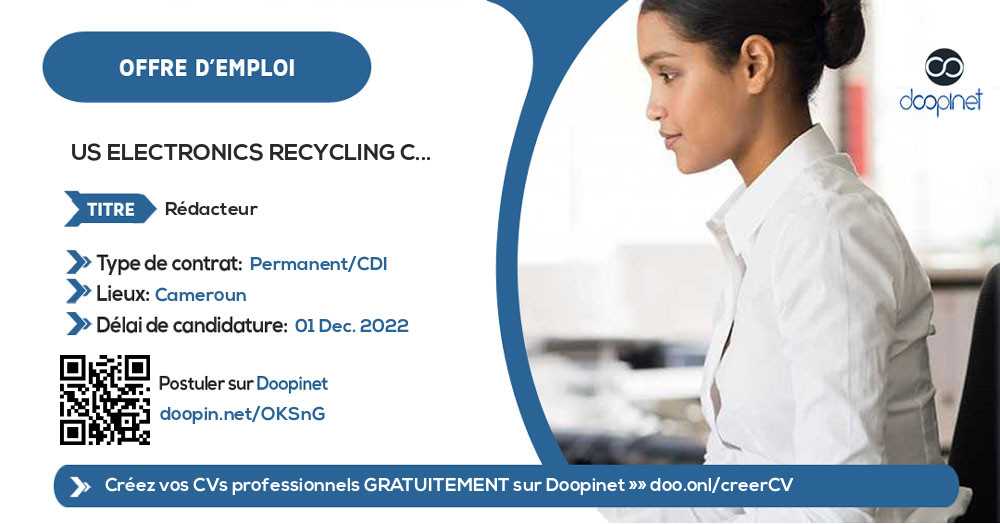 Rédacteur – Yaoundé
Yaoundé, Centre, Cameroon
·
01 Dec. 2022
·
Permanant
·
Advertising - Marketing
·
Designer Editor
Description
Le US Electronics Recycling Center recrute un rédacteur Le poste: Le US Electronics Recycling Center recherche une personne possédant d'excellentes compétences en rédaction et en recherche pour être notre rédacteur interne à temps plein.
Missions / Responsibilities / Activities
• Cette personne rédigera et éditera du contenu pour une variété de projets (y compris l'impression, le Web, le mobile, la vidéo et les réseaux sociaux), en travaillant en étroite collaboration avec les équipes de marketing et de conception pour réfléchir à des idées, développer des concepts et articuler des messages.
Dans ce rôle, vous devrez :
• Prospérer dans un environnement collaboratif au rythme rapide avec une charge de travail à volume élevé nécessitant souvent des délais d'exécution courts.
Job Requirements
• Excellentes compétences en communication verbale
• Bonnes compétences éprouvées en résolution de problèmes
• Un fort sentiment d'appartenance
• Vous êtes un joueur d'équipe
Application Documents
» Curriculum Vitae

NOTE: SCAMMERS ARE MORE AND MORE SMART! Never send money to a stranger during a recruitment process for any reason! And If ever you should, please do so at your OWN RISK!
Appy Instructions
Vous êtes orienté vers les solutions Si vous répondez à la plupart des critères pour ce poste, nous aimerions quand même avoir de vos nouvelles ! Nous croyons à la promotion des talents, à la croissance et à la formation de notre équipe, car nous pensons que les êtres humains de qualité passent en premier et que le développement des compétences peut se faire au fil du temps.

Postulez ici : jobs@uselectronicsrecycling.com
Receive our offers instantly on: