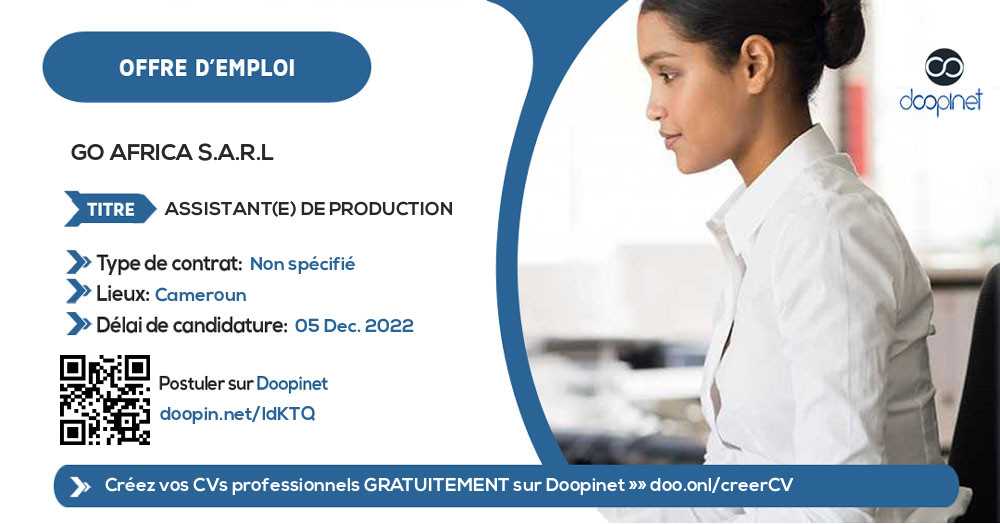 ASSISTANT(E) DE PRODUCTION – Douala
Douala, Littoral, Cameroon
·
05 Dec. 2022
·
Unspecified
·
Agriculture
·
Aquaculturist
Description
OFFRE D'EMPLOI: ASSISTANT(E) DE PRODUCTION

GO AFRICA S.A.R.Lrecherche 01 Assistant(e) de production
Type de contrat:Contrat à durée déterminée avec période d'essai obligatoire


Lieu d'embauche: Lendi maison blanche, DLA 5, Département du WOURI

NB:
Disponibilité d'un logement offert par l'entreprise sur le site de production.

Missions / Responsibilities / Activities
MISSION:

Assurer le bon fonctionnement de l'activité de production au quotidien au sein de la ferme DREAM FISH BY GO AFRICA.
ENJEUX DU POSTE
Appliquer la politique de production définie par la Direction;
Suivre la production pour atteindre les objectifs définis ;
Contribuer à l'amélioration des process de production.
Activités principales
Assurer le fonctionnement de l'élevage au quotidien (nourrissage, prise des paramètres,…):

Réalise les manutentions divers (tris, calibrage et comptage,…)
Assurer le suivi des données d'élevage afin de piloter les activités à engager : Gérer les stocks:
Contrôler les paramètres zootechniques (O2, Temperature, pH, …);
Veiller au bien-être constant du cheptel
Entretenir le matériel et le site piscicole (nettoyage, rangement,…):
Mettre en œuvre les bonnes pratiques sanitaires et les règles de sécurités.
Être Rigoureux, organisé et autonome;
Être force de propositions et d'amélioration;
Capacité de s'adapter aux nouvelles technologies de production tout en observant les cadences à horaires décalés:
Excellente condition physique pour garantir un niveau de qualité constant: Capacité d'analyser et restitué l'information:
Aptitude à travailler en équipe et capacité d'écoute. Conditions spécifiques:
Être titulaire au minimum d'un baccalauréat ou tout autre diplôme équivalent:
Job Requirements
Être âgé d'au plus 35 ans au 1 Janvier 2023
Niveau d'expérience: Aucune expérience requise mais une formation en aquaculture ou production animale serait un plus.
Applicant profile
» 18 - 35 years old
» Experience Level: Entry / Beginner

Application Documents
» Curriculum Vitae

NOTE: SCAMMERS ARE MORE AND MORE SMART! Never send money to a stranger during a recruitment process for any reason! And If ever you should, please do so at your OWN RISK!
Appy Instructions
Cliquer sur le bouton Postuler pour envoyer votre candidature en ligne
Ou merci de postuler uniquement par le biais du mail de recrutement , en envoyant vos CV à l'adresse contacts@go-africa.lo

Receive our offers instantly on: